This article is more than 1 year old
Games Workshop finds that in the grim darkness of the 3rd millennium, there is only ERP
'Long and complex' saga shifts into next phase as new heroes enter battlefield
Games Workshop, the fantasy model maker and table-top wargames retailer, has ingested a dose of reality as it delays its high-risk ERP project and appoints a new integrator.
Nestled in this week's half-year results [PDF], which showed a sales surge during lockdown, is evidence of an epic struggle with a monster Microsoft Dynamics adoption.
"We have made some good progress on implementing our European ERP system and we are working with a new partner to help achieve the completion of this long and complex project," it said.
The Nottingham-based manufacturer and retailer, which owns the popular Warhammer fantasy and sci-fi games, said cost for the project hit a total of £6.5m with £400,000 recorded in the half-year.
The saga was supposed to have come to a close as it adopted new skills in battle. In its annual report for 2018-19 [PDF], Games Workshop said: "Following our move to a more agile methodology some phases of this complex project are now live with the remaining phases planned to go live in 2020."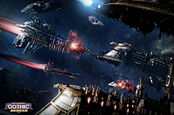 Tabletop battle-toys purveyor Games Workshop again warns of risks in Microsoft Dynamics 365 ERP project
READ MORE
But as the winter solstice passed, mysterious characters entered the fray. Games Workshop has so far declined our invitation to comment on who its "new partner" on the project is, but The Register understands the company had been working with DXC Technology on the implementation. Sources suggest that a team has left DXC Technology and is now working with Games Workshop independently. DXC Technology is yet to respond to The Register's request for comment.
In Games Workshop's quest for more efficient manufacturing and supply chain processes, the stakes are high. Its 2020 half-year report for the period ended 1 December said the project created "risk of widespread business disruption if it is not implemented well. It is being implemented and managed by a strong internal project team and specialist ERP software consultants."
The company has been using Sage to manage the business since 2005. It also uses Manhattan Associates' warehouse management. It is understood to be using both Sage Line 500 and Dynamics AX 2012 R3 for ERP currently. Dynamics modules already in production include warehousing, finance, and sales.
Games Workshop's annual report for fiscal '19 ended 31 July shows spending on computer equipment and software went up to £3.7m versus £2.6m in the previous financial year. The investment surge relates mainly to the work on the new ERP system for the UK and European businesses, the company said at the time. ®