This article is more than 1 year old
Signal boost: Secure chat app is wobbly at the moment. Not surprising after gaining 30m+ users in a week, though
Install base explodes following WhatsApp 'privacy' update, Musk endorsement
Updated Signal is experiencing a partial outage as tens of millions of netizens flood the free secure messaging service.
Texts sent via its iOS and Android apps are delayed or not getting through at all; we've had very mixed results using the platform today. On the desktop side, our vultures have struggled to pair their phones with the client. Here's what the Signal team had to say about it:
Signal is experiencing technical difficulties. We are working hard to restore service as quickly as possible.

— Signal (@signalapp) January 15, 2021
Those technical difficulties come as at least 30 million people joined the non-profit end-to-end encrypted communications platform in a matter of days this week. Its Android install base alone soared from 10 million to 40 million-plus almost overnight. And it's been the number-one app for social networking on Apple's App Store.
We have been adding new servers and extra capacity at a record pace every single day this week nonstop, but today exceeded even our most optimistic projections. Millions upon millions of new users are sending a message that privacy matters. We appreciate your patience.

— Signal (@signalapp) January 15, 2021
The surge is likely due to Facebook-owned WhatsApp forcing folks to agree to a "privacy" policy ostensibly updated to allow businesses to interact with customers via the chat software. The fine print, though, ultimately allows Facebook and its network of subsidiaries to access WhatsApp users' personal info, sparking a mild exodus to alternative providers.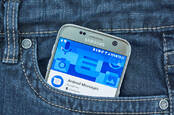 End-to-end encryption? In Android's default messaging app? Don't worry, nobody else noticed either
READ MORE
Signal has been recommended by big names in tech like Edward Snowden and Jack Dorsey, and more recently, Elon Musk, who last week urged his 42 million followers on Twitter to use the software.
Although Signal has been around for almost seven years, it is utterly dwarfed by WhatsApp, Snapchat, Telegram, WeChat, and others, which together serve billions of netizens. Computer security professionals, journalists, activists, and others tend to prefer Signal, though, because it's open source, designed from the ground up to be strongly end-to-end encrypted, and it actively tries to store the bare minimum of a user's details.
It's clear the organization behind Signal is scaling up as fast as it can. Cofounder and respected cryptographer Moxie Marlinspike put out a recruitment call yesterday. The team also called for donations. ®
Updated to add
Amid the ongoing evacuation from WhatsApp, the Facebook-owned biz has pushed back its privacy policy change to May rather than February. After bungling the communication of its changes to its T&Cs, it's now going to use the extra time to address people's concerns and "help everyone understand our principles and the facts."