This article is more than 1 year old
Taiwan's silicon titan TSMC says three-nanometre tech is on track for 2021 debut and a 2022 flood of kit
Outlines $25bn of capex plus plans to expand in China
Taiwan's silicon manufacturing titan TSMC has revealed it should be ready to produce chips using a three-nanometre process in 2022.
Speaking on the manufacturer's fourth-quarter earnings call with financial analysts this week, chief executive C. C. Wei said some 3nm production will happen in 2021, with volume production in the second half of 2022.
The CEO described 3nm as "a full node stride," compared to 5nm and said it will offer "up to 70 per cent logic density gain, up to 15 per cent performance gain, and up to 30 per cent power reduction."
"Our N3 technology will use FinFET transistor structure to deliver the best technology maturity, performance and cost for our customers," he added.
To make that happen, TSMC outlined between $25bn and $28bn of capital expenditure in 2021, up from $17.2bn in 2020. And yes, those are US dollars – not the Taiwanese dollar which is worth three-and-a-half American cents apiece.
Some of that giant cash pile will go towards construction of a promised new fab in the US state of Arizona. Company chair Mark Liu said the facility should be online, and producing 20,000 wafers a month, in 2024.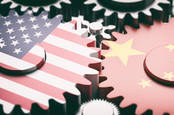 How the US attacked Huawei: Former CEO of DocuSign and Ariba turned diplomat Keith Krach tells his tale
READ MORE
Liu also said that TSMC expects a "reset" of its business in China – Huawei was a major TSMC customer until US sanctions took effect, we note – and expansion is on the cards there, too.
"We do expect the demand in China will continue and we will gradually, accordingly, increase our capacity in Nanjing," he said. Which is interesting given that the Arizona plant was signed off in part to demonstrate that TSMC can be relied upon as a supplier to the US market, come what may with Taiwan and its stormy relationship with China.
The chipmaker appears to be in rude health [PDF]. Net income for the final quarter of 2020 was a tick over $5bn. Revenue was $12.68bn, up 22 per cent year-over-year and 4.4 per cent ahead of Q3.
Gross margin for the quarter was 54.0 per cent, operating margin was 43.5 per cent, and net profit margin was 39.5 per cent.
Full-year revenue was $45.5bn and net income was $17.6bn, jumps of 31.4 per cent and 50 per cent respectively.
5nm products' contributions to those results soared thanks to buyers' enthusiasm for 5G smartphones and high-performance computing products.
CEO Wei said things will only get better, because 5G phones contain more silicon than their 4G predecessors, and create more demand for data center silicon because end-users do more with their newer and more powerful devices.
Wei also observed that the COVID-19 pandemic has seen customers become happy to have higher levels of inventory on hand, because they've learned to fear supply chain disruptions. The CEO said he doesn't think TSMC customers will change that approach even after the pandemic ebbs.
There is an ongoing shortage of chips in the world due to the demand for semiconductors, Huawei bulk-buying parts, the coronavirus pandemic affecting manufacturing in Asia, a lack of plant investment by some fabricators, and other effects. Automakers in particular have complained they are unable to build vehicles without these components, and have turned to TSMC to help alleviate the drought. ®