This article is more than 1 year old
Hollywood drone pilot admits he crashed gizmo into cop chopper, triggering emergency landing
Idiot faces up to a year in the cooler after FBI tracks him down from SD card found in prang wreckage
A man in California faces up to a year behind bars and a fine for crashing his drone into a police helicopter, forcing an emergency landing.
Andrew Rene Hernandez, 22, this week pleaded guilty to recklessly operating an unmanned aircraft, a US federal crime that could have seen him imprisoned for ten years if the accident had resulted in serious bodily injury or death.
Fortunately, no one was harmed. Around midnight of September 18, Hernandez flew his camera-fitted remote-control drone over a crime scene near his home in Hollywood, Los Angeles, to a get a good view of the commotion. A pharmacy had been burgled, and the officers who showed up had requested some eyes in the skies.
As Hernandez's flying gizmo – a DJI Mavic Pro Platinum M1X – ascended, it smashed into the bottom of a police helicopter keeping watch above. The drone was immediately obliterated, and came crashing down while the cop copter had to land at nearby Hooper Heliport and check for damage. We're told the drone pranged the nose, antenna, and the bottom cowlings.
"If the drone had struck the helicopter's main rotor instead of the fuselage, it could have brought the helicopter down," testified FBI special agent William Richau in court filings [PDF].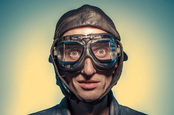 'A guy in a jetpack' seen flying at 3,000ft within few hundred yards of passenger jet landing at LA airport
READ MORE
"The drone could have easily hit and damaged the rotor or other critical parts of the helicopter like the windshield, which could have caused the helicopter to crash or distract the pilot."
Thankfully it was Hernandez's drone that came off worse, although shards of its remains plowed through the rear window of a car parked near the pharmacy. The Los Angeles Police Department searched the area and found chunks of the drone, including its camera and serial number.
From there the FBI obtained a search warrant to access its camera and the SD card lodged inside it, and uncovered photographs of Hernandez. In one of the images, Hernandez is standing in front of a car, and the FBI traced the license plate to his address.
Hernandez was cuffed, charged, and admitted one minor misdemeanor count of unsafe operation of an unmanned aircraft. He is scheduled to appear in court for sentencing on April 12, where he faces a maximum of one-year imprisonment and a fine of a quarter of a million dollars.
He probably won't have to pay anywhere near that amount, though. "The parties currently believe that the applicable amount of restitution is approximately $1,000, but recognize and agree that this amount could change based on facts that come to the attention of the parties prior to sentencing," according to his guilty plea agreement. ®