This article is more than 1 year old
Euro cloud slingers fight for niches on their own doorstep as AWS, Microsoft and Google inhale market share
Just 16% of cloud spending in Q3 went to local tech services shops, says analyst
European cloud giants are finding themselves teetering on the brink of relevancy in their own backyards as they fail to ward off encroachment by US rivals, or so data from Synergy Research Group (SRG) has indicated.
Cloud spending in Europe has grown threefold since the start of 2017, reaching $6.9bn (€5.7bn/£5.09bn) as of the third calendar quarter of last year. During this multi-year timeframe, the market share held by European businesses has fallen from 26 per cent to just 16 per cent.
Contrast that with the fortunes of Amazon Web Services, Microsoft and Google, which amassed a 66 per cent share of cloud spending in the region, with the remainder of the market comprised of Euro players, Asian businesses such as Alibaba, and smaller American providers.
"European cloud providers are trying to gain more traction in the market by focusing on customer segments and uses cases that have stricter data sovereignty and private requirements," said John Dinsdale, chief analyst at SRG. "This has led to the Gaia-X initiative, which represents an attempt to reverse the fortunes of the European cloud industry."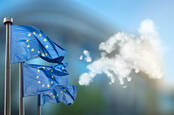 Franco-German cloud framework floated to protect European's data from foreign tech firms slurpage
READ MORE
"Their efforts are laudable but the trouble is that this is a bit like King Canute attempting to stop an incoming tide," he added.*
The big US trio have 67 data centres in Europe and more than 150 additional local points of presence, and the tier two providers from the US collectively have 36 major bit barns in the locale.
Dinsdale added:
In total their European capex over the last four quarters have totalled €12bn, up 20 per cent from the previous four quarters. European firms are facing a huge challenge if they want to break out of their niche-like positions – the revenue growth opportunities are massive, but so too is the funding and willpower required to tap into those opportunities.
Among the European leaders, Deutsche Telekom has built the biggest cloud market share in the region of 2 per cent, followed by OVHcloud, Orange and a string of national telcos, and regional cloud and hosting specialists.
For the full 2020, SRG said it expects total cloud spending (IaaS, PaaS, and hosted private cloud) to rise 31 per cent year-on-year to $23bn. ®
*For what it's worth, King Canute did not try to hold back the tide, quite the opposite. He actually pointed out to courtiers at the time that he did not have god-like powers that enabled him to govern the tides. But we get the point SRG is trying to make.