This article is more than 1 year old
Police drone plunged 70ft into pond after operator mashed pop-up that was actually the emergency cut-out button
Another unfortunate UAV episode for Sussex cops
Updated A police drone operator managed to switch his craft off mid-flight, dropping it squarely into a pond while attempting to search for a missing person.
The blunder happened after the hapless operator of the Aeryon Skyranger R60 accidentally button-mashed the drone's "emergency cut-out function icon".
According to the Air Accidents Investigation Branch's (AAIB) summary report, the 3.5kg drone's 1am flight ended with it being destroyed after a 70ft drop – just yards from family homes in Crawley, West Sussex.
Back in June last year police were searching for a missing person near Maidenbower Pond, next to Three Bridges railway depot. Police were using the quadcopter's onboard thermal camera to hunt for the individual.
An unnamed 33-year-old with just six hours' experience flying drones, and four hours of flying the Skyranger type, was operating the craft when an unfamiliar warning popped up on its flight controller.
"He did not realise the message was a warning and attempted to clear it but in doing so the aircraft motors cut out, causing the [unmanned aircraft] to fall from a height of about 70 ft into the pond below," said the AAIB in its report.
Investigators added that an object of similar weight to the Skyranger drone could cause fatal injuries to somebody wearing a hard hat if dropped from a height of just four metres, or 13 feet.
The emergency cut-out "is accessed by holding the stylus over an icon on the flight controller screen showing a white aircraft on a black background. This causes the aircraft shadow under the icon to flash red," explained the AAIB. "By tapping the icon three times within three seconds the emergency cut out function is activated."
Aeryon confirmed that "the cut-out screen icon had been activated three times within three seconds", stopping all four of the quadcopter's motors.
Sussex Police has been asked whether the Skyranger was being flown within the limits of the force's Police Air Operators Certificate, which regulates how and where police may fly aircraft within the UK. The AAIB said police were allowed to fly drones after just two hours' in-house training, a practice endorsed by the Civil Aviation Authority.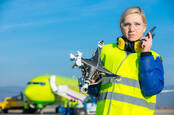 Hollywood drone pilot admits he crashed gizmo into cop chopper, triggering emergency landing
READ MORE
"Recent AAIB investigations reveal a lack of understanding by some UAS pilots of fundamental operational factors such as weather limitations and the handling of aircraft warnings and failures," cautioned the safety investigation board.
This isn't the first time that drones near Crawley have landed Sussex Police in hot water.
Neither is the police force completely alone in doing unfortunate things with drones. A few years ago one crashed on a building site after its operator failed to spot a 300ft crane that somebody had erected, while in 2019 a drone flung itself to earth after a 25kV railway cable's magnetic field confused its compass. ®
Updated to add
A force spokesman commented: "Surrey Police and Sussex Police are committed to the safe conduct of all our drone operations and operate within permissions granted by the CAA.
"We welcome the AAIB report into the Sussex SkyRanger accident on 17 June 2020. The pilot concerned was removed from flying following the incident whilst refresher training and re-assessment was arranged.
"As outlined in the report, we have invested in providing staff solely focussed on training and assessing our pilots. In addition, we have recently purchased drone management software to enhance and streamline our training/maintenance and flight records."