This article is more than 1 year old
Screw you, gadget-menders! No really, you'll need loads of screwdrivers to fix Apple's AirPods Max headphones
Surprisingly fixable... with a bulging toolbox
AirPods are as close as you can get to a swearword in the repair world, known for being almost impossible to service thanks to their densely packed circuitry and closed design. Mercifully, that isn't the case when it comes to Apple's hugely expensive AirPods Max headphones.
The buds proved surprisingly modular when subjected to the harsh glare of spudger-wielders at iFixit.
Here's the good news: the AirPods Max are fairly modular, making disassembly straightforward. That is, provided you've got a sufficiently large screwdriver collection. The gadget botherers encountered a dizzying array of screw types, ranging from pentalobe and Torx to one they couldn't quite identify at first glance.
This shouldn't come as much of a surprise to anyone who has ever serviced or repaired Apple-made kit. Cupertino has a propensity for using different screw types in its hardware, with early-generation Intel MacBooks prime examples of this. This will inevitably make reassembly that bit harder, especially if you fail to keep proper track of where each screw goes.
"While screws are almost always preferable to glue, the sheer number of screw types here is baffling — you'll need an extensive toolkit, even by our standards," the right-to-repair site remarked.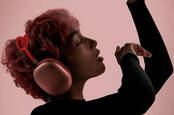 Apple aptly calls its wireless over-the-ear headphones the AirPods Max – as in, maximum damage to your wallet
READ MORE
Speaking of adhesive, we've got some bad news on that front. The earcup grilles on each cup are affixed with both pentalobe screws, as well as hefty globs of glue. Defeating this requires the careful use of a heat gun, lest you inadvertently melt part of your £550 headphones.
After that, it's straightforward, albeit fiddly, work. With a bit of finesse, it's possible to dislodge all relevant components: from the dual logic boards hidden within each speaker, to the headband and dual batteries.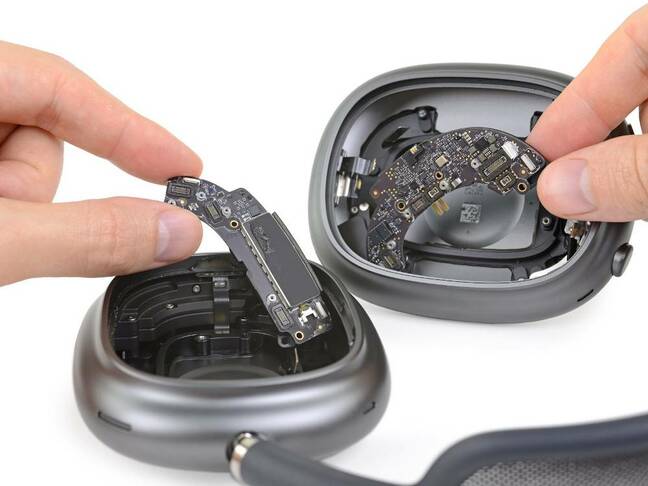 Dual logic boards hidden within each speaker...
"These things are actually fairly serviceable. Not fun to service, but serviceable," remarked iFixit.
Is this much of a surprise? Well, yes and no. On one hand, we suspected that these buds would be relatively repairable, especially considering Apple has already priced up the cost of basic out-of-warranty fixes, like battery replacements. Similarly, other over-ear headphones have proven possible to fix in the past.
But again, one can't ignore Apple's limited enthusiasm for third-party repairs, which applies to computer hardware and audio kit alike.
As mentioned, the earbud-style AirPods are effectively designed to be disposable. When the battery dies, there's no real way to fix it. Your only option is to buy another.
This design hurts both consumers and the environment. Precedent made us fear the AirPods Max would be the same way. This time, we're glad to be proven wrong. ®