This article is more than 1 year old
Top engineer who stole trade secrets from Google's self-driving division pardoned on Trump's last day as president
As recommended by Peter Thiel
On his last day in office, US president Donald Trump pardoned 73 people and commuted the sentences of 70 others – including Anthony Levandowski who admitted stealing trade secrets from Waymo while a self-driving car researcher.
Breitbart founder and one-time Cambridge Analytica board member Steve Bannon was also among those receiving clemency over fraud charges regarding a fundraiser for Trump's infamous border wall, as were some rappers.
In August last year, Levandowski, an engineer in Google's self-driving Waymo division from 2007 to 2016, pleaded guilty to stealing trade secrets and was sent down for 18 months. He was also ordered to pay Google $756,499.22 in compensation and a fine of $95,000.
He had resigned from Google to co-found Otto, an autonomous truck firm sold to Uber in 2016. Levandowski was accused of leaving Waymo with more than 14,000 files detailing its proprietary Lidar technology and sharing them with Uber.
Google sued Uber over the matter and the companies settled for $245m of Uber stock in 2018. The US Attorney's office took action against Levandowski, filing 33 charges alleging theft and attempted theft of trade secrets, in violation of 18 U.S.C. § 1832.
Explaining Levandowski's full pardon, the White House press secretary said he "has paid a significant price for his actions and plans to devote his talents to advance the public good". It was noted the sentencing judge described him as a "brilliant, groundbreaking engineer that our country needs".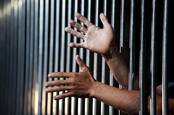 Raytheon techie who took home radar secrets gets 18 months in the clink in surprise time fraud probe twist
READ MORE
The individuals supporting the pardon include Peter Thiel, the prominent Trump financier and PayPal investor who founded AI firm Palantir, which largely carries out information analysis and processing work for the defence and intelligence communities, including the CIA and controversial US border agency ICE. The firm has also fingers in NHS data in the UK.
Also campaigning for Levandowski's pardon was Palmer Luckey, VR firm Oculus's CEO when it was acquired by Facebook.
Levandowski joins a long list of names to be pardoned hours before the inauguration of President-elect Joe Biden. Among them is Bannon, the media entrepreneur and alt-right cheerleader who led Trump's 2016 election campaign and became senior counsel to the president following the election, leaving eight months later to rejoin the right-wing news site Breitbart, which he founded.
The White House statement said: "Prosecutors pursued Mr Bannon with charges related to fraud stemming from his involvement in a political project. Mr Bannon has been an important leader in the conservative movement and is known for his political acumen."
Bannon stood charged with fraud in connection with the "We Build the Wall" campaign. He is alleged to have received more than $1m of the donations, some of which he is accused of using to cover personal expenses.
Bannon also helped found Cambridge Analytica, which, it is said, harvested millions of Facebook user profiles and used that information to fling targeted political ads at voters.
Facebook later suspended any business with the controversial outfit.
Others receiving clemency include Elliott Broidy, one of Trump's former fundraisers who illegally lobbied the US administation to ditch its probe into the 1MDB corruption shocker in Malaysia; hip hop stars Lil Wayne and Kodak Black, previously prosecued for federal weapons offences; and Kenneth Kurson, a pal of Trump's son-in-law Jared Kushner, who was charged in October with cyberstalking. ®