This article is more than 1 year old
OVH rises to Europe data sovereignty challenge (and AWS) with tape-as-a-service
Storage cost saver combines IBM tape, Atempo software and OVH data centres
OVHcloud has introduced tape-storage-as-a-service, based on IBM technology, in response to European data sovereignty and localisation requirements.
The company, which is among Europe's biggest hosting firms, has kicked off with four dedicated facilities, all located in France but, for disaster recovery purposes, sited several hundred kilometres apart. Sylvain Rouri, chief sales officer, said the "reliable and sovereign data preservation solution" will deliver a secure and trusted cloud for European customers.
Mike Doran, worldwide sales director at IBM, said the deal with OVH was "another proof point of the enduring value that IBM Enterprise Tape provides to organisations as they look to cost effectively and securely store ever growing amounts of critical data".
OVH's tape-as-a-service is S3-compatible, and that means it is roughly equivalent to AWS Glacier and Glacier Deep Archive. At time of writing, we don't have price details to enable us to compare rival offerings.
The rationale for this service is to cut storage costs by moving old and stale data from enterprise customers' data centres to tape. And if you need to see the data again, restore times range from 10 minutes and 12 hours.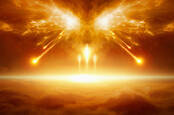 Euro cloud slingers fight for niches on their own doorstep as AWS, Microsoft and Google inhale market share
READ MORE
The service uses IBM tape in tandem with Miria, an enterprise data backup, archive and migration suite from the French company Atempo. "Put simply," OVH said, "storing data on Tape costs mere pennies per terabyte and when not in use, requires zero energy consumption unlike hard disks and flash drives."
Tale of the tape
The tape in question is IBM's proprietary format 3592. The current Gen 6 TS1160 format (3592-60F) has a 20TB/tape cartridge raw capacity, 60TB compressed, and maximum uncompressed speed of 400MB/sec. These cartridges are used in IBM's TS3500 and TS4500 tape libraries.
For comparison, the current open LTO-8 format offers 12TB raw, 30TB compressed, less than IBM. The upcoming LTO-9 will offer 18TB raw, 45TB compressed, still less than IBM's proprietary tape tech.
IBM and Fujitsu have demonstrated a 500TB raw capacity tape so the 3592 line theoretically has a large amount of future capacity headroom.
Germany-based Point Systemes also provides a tape archiving facility, with an S3-enabled Archival Gateway. ®