This article is more than 1 year old
Qualcomm crosses '865 Plus' from its Snapdragon chips, scribbles on '870', pushes in a few more MHz
Expect it in handsets from Motorola, iQOO, OnePlus, OPPO, Xiaomi
Qualcomm announced the Snapdragon 870, a 5G-capable system-on-chip designed for high-ish-end Android smartphones coming out at the end by March.
"Building upon the success of Snapdragon 865 and 865 Plus, the new Snapdragon 870 was designed to address OEM and mobile industry requirements," Kedar Kondap, Qualcomm's vice president, product management, said on Tuesday. "Snapdragon 870 will power a selection of flagship devices from key customers including Motorola, iQOO, OnePlus, OPPO, and Xiaomi."
The Snapdragon 870's specs [PDF] are a tiny bit better than the 865 Plus [PDF] in terms of CPU clock speed, and not much else. The Snapdragon family's 5nm 888 is still the biz's top chip.
Both the 870 and 865 are pretty much the same chip with different labels. They're both 7nm and powered by 64-bit Arm-based Kryo 585 CPU cores except the 870 can reach speeds of 3.2 GHz, compared 865 Plus's 3.1 GHz and the 865's 2.84 GHz. They also have the same Adreno 650 GPU.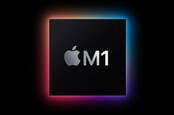 Barbs exchanged over Linux for M1 Silicon ... lest Apple's lawyers lie in wait
READ MORE
The chip also integrates Qualcomm's Snapdragon X55 modem and radio components to support mmWave and sub-6 GHz 5G with dynamic spectrum sharing. Depending on local 5G coverage, upcoming handsets can expect download speeds of up to 7.5 Gbps and upload speeds of 3 Gbps – again, this is the same for the 865 Plus too.
Despite their similarity, there seems to be some demand for the 870. Kondap mentioned that cellphone makers, such as Motorola, OnePlus, and Xiaomi have handsets coming later this year. Those smartphones, however, won't be the most powerful Android devices out there, and will probably be more affordable than flagship line-ups, such as the just-launched Galaxy S21 series from Samsung, which contain Qualy's Snapdragon 888 chip, which start at $799 in the US, and £769 in the UK.
Launched at the end of last year, the Snapdragon 888 [PDF] is more superior with a 5nm process node containing Arm-designed Cortex-X1, A78, and A55 cores that pack more of a punch in terms of speed and performance. ®