This article is more than 1 year old
UK Prime Minister Johnson knows not when 400k+ deleted records from police DB will be back
And the possible impact of erased DNA and fingerprint data on live police investigations? Nope, doesn't know that either
UK leader Boris Johnson has admitted he does not know how many live legal cases "will be frustrated" by the loss of 400,000+ records on the Police National Computer and cannot say when the data will be reinstated.
In a testy Prime Minister's Questions, Johnson explained that 213,000 offense records, 175,000 arrest records, and 15,000 person records had been deleted from the database in an error that came to light last week.
"The Home Office is actively working to assess the damage," he said. A team of techies is "working round the clock" and "they hope very much that they'll be able to restore the data in question." When? "That will depend on how long it takes to recover?"
During the exchange, Labour leader Keir Starmer quoted a letter from the National Police Chiefs' Council (NPCC) which said that "in addition" to the 413,000 records deleted, another 26,000 DNA records from a DNA database and 30,000 fingerprints from a fingerprint DB had also been wiped.
This contradicts an earlier statement from policing minister Kit Malthouse claiming "the loss relate[d] to individuals who were arrested and then released with no further action."
Starmer said the deleted records included criminals' DNA marked for indefinite retention following their conviction for serious crimes, not simply records of people under investigation. "How many criminal investigations could have been damaged by this mistake?" he asked the PM.
Johnson responded: "We don't know how many, how many cases might be frustrated as a result of what has happened." He could not say how many convicted criminals had had their records wrongly erased.
Further quoting from the NPCC missive, the Labour leader said, "This letter makes clear that it includes data from criminals convicted of serious offences. It has impacted live police investigations already."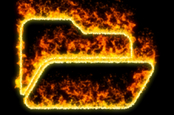 150,000 lost UK police records looking more like 400,000 as Home Office continues to blame 'human error'
READ MORE
Delete-gate is being handled by Malthouse, who has briefed the PM on events.
Speaking to the House of Commons on Monday (18 January), Malthouse shed some light on whether the deletion was down to human error in "housekeeping", as the Home Office has been insisting this week, or whether it was a "technical issue", the explanation it first gave to the press last week.
The answer is a bit of both.
The PNC system is a Fujitsu BS2000/OSD SE700-30 mainframe based in a Hendon data centre. It runs Software AG's Natural programming language-using ADABAS database and holds around 13 million records.
Malthouse explained that an automated process - weeding - deleted records the police no longer had the legal right to hold. "The software which triggers these automatic deletions contained defective coding and inadvertently deleted records that it should not have, and indeed had not deleted some records which should have been deleted," he told Parliament.
He said that the same day the Home Office became aware of the error, on 10 January, engineers put a stop to the automated process to ensure no further deletions took place.
However, shadow home secretary Nick Thomas-Symonds pointed out that the faulty script was introduced into the Police National Computer on 23 November 2020, "meaning that this problem was not identified for 48 days".
Malthouse said that although the script had been introduced to the computer six weeks earlier, it had not been run until 10 January.
The policing minister said the IT team had already written and tested code designed to collate a list of what had been deleted. It was now in the process of running the code and analysing the results, on which he promised to have an update "in the next few days."
None of this will be any relief to Johnson, who seemed pleased when, during PMQs, the opposition leader changed the subject to COVID-19 – indeed, he seemed to criticise Starmer for focusing on the PNC while the pandemic raged.
Considering the UK's coronavirus death rate (deaths per million), confirmed on Monday as the highest in the world, and the British government's neck-wrenching U-turns on lockdown rules, Johnson's preference to talk about COVID rather than the PNC might offer a sense of how likely the Home Office is to find the missing records. ®