This article is more than 1 year old
President Biden selects Jessica Rosenworcel to head up FCC as acting chairwoman
Net neutrality, internet-for-students advocate awaits Senate confirmation
President Joe Biden has made Democrat FCC commissioner Jessica Rosenworcel acting chairwoman of America's communications regulator.
Rosenworcel needs the Senate's approval before she can take on the role on a permanent basis. Even then the FCC leadership will still be split with two Democrat commissioners and two Republicans until Biden can install a third Democrat, again via the Dem-controlled Senate, to push through changes. Rosenworcel is the second woman to hold the title of acting FCC chairwoman, Mignon Clyburn being the first.
A former Washington DC and Senate Commerce Committee lawyer, Rosenworcel has been an FCC commissioner pretty much since her installation by President Obama in 2012. Rosenworcel, 49, has more than two decades of experience in communications policy and law, and was seen as a natural pick for Biden.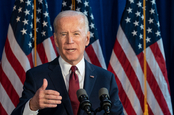 So what can we expect from a Joe Biden White House when it comes to tech? We'll try to answer that right now
READ MORE
She has advocated for, among other measures, net neutrality protections and internet access for all students. Indeed, a Democrat-run FCC is expected to restore network neutrality rules scrapped by the previous Republican administration, and improve America's connectivity with subsidies amid a coronavirus pandemic in which schools are closed and people are urged to work from home where possible.
"I am honored to be designated as the Acting Chairwoman of the Federal Communications Commission by President Biden," she said in a statement on Thursday.
"I thank the President for the opportunity to lead an agency with such a vital mission and talented staff. It is a privilege to serve the American people and work on their behalf to expand the reach of communications opportunity in the digital age."
Let's take a quick spin through some of Rosenworcel's greatest hits, as reported by your humble vultures:
The appointment follows FCC boss Ajit Pai's departure this week as Biden was inaugurated as the United States' 46th president. ®