This article is more than 1 year old
Google's Alphabet sticks a pin in its Loon internet broadband service
It never really took off (commercially), apparently
Alphabet has stuck a pin in its Project Loon broadband project, which sought to use high-altitude balloons to extend connectivity to areas considered hard to reach by traditional telcos.
Word of Loon's cancellation came from the company's CEO, Alastair Westgarth, who attributed the decision to problems in commercialising the tech.
"We talk a lot about connecting the next billion users, but the reality is Loon has been chasing the hardest problem of all in connectivity — the last billion users: The communities in areas too difficult or remote to reach, or the areas where delivering service with existing technologies is just too expensive for everyday people," he said.
"While we've found a number of willing partners along the way, we haven't found a way to get the costs low enough to build a long-term, sustainable business. Developing radical new technology is inherently risky, but that doesn't make breaking this news any easier."
Loon started life in 2011 as a project within Alphabet's secretive Google X (later called just "X") skunkworks division. The first official deployment followed in 2013, with 30 balloons launched into the stratosphere above New Zealand's South Island.
Unlike a hot air balloon, which burns fuel to control its momentum, Loon relied upon helium to provide buoyancy, with an electric air pump used to control the vessel's altitude. Power came from an array of solar cells, with a back-up battery used during night-time conditions. This provided extremely long endurance, with one balloon remaining continuously airborne for 312 days.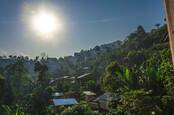 Two arrested in Congo after Google Loon mobe balloon meets terra firma more than 1,000km from operating area
READ MORE
Network connectivity, meanwhile, was based on standard LTE cellular technology, with the balloons connecting to a terrestrial base-station for backhaul. Punters could expect speeds of up to 1Mbps, which although far from ideal, was nonetheless a vast improvement over dial-up.
In 2018, Google began making tentative moves to turn Loon into a self-sufficient business operating independently, spinning it off as a separate subsidiary. The following year, Softbank invested $125m via its HAPSMobile project, which invests in companies designed to improve global internet access.
Loon's initial goals were laudable, and it focused both on rural areas in developed countries, as well as poorer nations where speedy fixed-line connections are either unaffordable, or simply unavailable. It set the stage for further experimentation with aircraft-based internet provision, with Facebook launching its own (also short-lived) drone-based program in 2016 called Aquila, which used lightweight electrical aircraft to relay signals from communications satellites.
Although it's a shame to see the back of Loon, it's hard to see where the company would go in the long term. In poorer countries, it is mobile networks that have largely picked up the slack of providing internet connectivity, with the GSMA estimating 475 million mobile internet users in Africa by the decade's half-point.
Those living in remote areas of affluent countries have other options, too. Satellite broadband is getting faster and gradually cheaper, with a month's subscription to SpaceX's StarLink costing $99 (or £89 in Blighty) per month, not including equipment costs. This promises speeds beyond those offered by Loon, varying between 50Mbps and 150Mbps. Latencies, which currently hover between 20ms and 40ms, are expected to range between 16ms and 19ms following promised software improvements. ®