This article is more than 1 year old
As the world turns to big names in cloud and IT to get through the pandemic, IBM still manages to shrink
Red Hat and off-prem see growth while revenue, profit down overall
IBM on Thursday reported $20.4bn in revenue for its Q4 2020 earnings results, a decline of six per cent, and $73.6bn for the full year, down 4.6 per cent year-on-year.
That led to profits plummeting by 42 per cent for the year, even after it experienced cloud growth in certain areas. Financial analysts had anticipated something more like $20.67bn on average, leading to disappointment that manifested in an after-hours share price decline of about six per cent.
CEO Arvind Krishna, who took over in April 2020, tried to put a positive spin on things. "We made progress in 2020 growing our hybrid cloud platform as the foundation for our clients digital transformations while dealing with the broader uncertainty of the macro environment," he said in a statement. "The actions we are taking to focus on hybrid cloud and AI will take hold, giving us confidence we can achieve revenue growth in 2021."
The specifics [PDF] for IBM's final quarter of 2020 are as follows:
GAAP EPS came in at $1.41, below expectations of $1.79 on average; operating (non-GAAP) EPS was $2.07.
GAAP gross profit margin was 51.7 per cent, up 70 basis points, yielding a net income of $1.36bn, down 63 per cent.
And the company reduced its debt by $3.9bn from the previous quarter.
The Cloud & Cognitive Software group (which includes Cloud & Data Platforms, consisting of Red Hat, Cognitive Applications and Transaction Processing Platforms) delivered $6.8bn in revenue, down 4.5 per cent year on year.
Within that group, Cloud & Data Platforms, led by Red Hat, increased nine per cent. Cognitive Applications was flat and Transaction Processing Platforms declined 24 per cent. Cloud revenue for the group was up 39 per cent.
The Global Technology Services group (see below) brought in $6.6bn, down five per cent.
The Global Business Services group (which includes Consulting, Application Management and Global Process Services) brought in $4.2bn, a decline of 2.7 per cent. Cloud revenue for the group increased 16 per cent.
The Systems group (which includes Systems Hardware and Operating Systems Software) plunged 17.8 per cent with revenues of $2.5bn. Cloud revenue for the group declined 18 per cent.
The Global Financing group (which includes financing and used equipment sales) reported revenues of $286m, a 4.8 percent decline.
And for the year, the story went:
GAAP EPS of $6.13, down from $10.57 in 2019, a 42 per cent decline; operating (non-GAAP) EPS was $8.67. Gross profit margin was up 100 basis points to 48.3 per cent.
Net income was $5.5bn, down 42 per cent year on year, from revenues of $73.6bn, down five per cent.
IBM's full-year 2020 results were weighed down by the cost of its July 2019 Red Hat acquisition and by a $2.04bn Q4 pre-tax restructuring charge.
Bright spots included overall cloud revenues of $25.1bn, up 19 per cent, for the year, and $7.5bn, up 10 per cent, for the quarter, plus Red Hat increasing its revenue by 19 per cent in 2020. It would appear that IBM is being weighed down by various product divisions as it battles toward profit growth.
During Big Blue's earnings call, Krishna said IBM is focusing its time and effort to develop its hybrid cloud and AI businesses. He acknowledged that things are dicey at the moment.
"The operating environment remains difficult, because of what clients are experiencing at the moment," he said, referring to the economic challenges amid the coronavirus pandemic.
"We can see that in the quarter just past. Our revenue was slightly behind typical seasonality but we finished strong in free cash flow, which is important as it's the fuel for investment."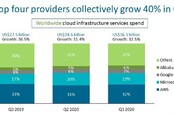 Cloud revenue equation: One AWS equals Azure + Google + Alibaba
READ MORE
"Our performance reflects the fact that our clients continue to deal with the effects of the pandemic and the broader uncertainty of the macro environment," he said. "This puts additional pressure on larger software transactions this quarter and project delays in some services engagements."
But short term troubles aside, Krishna said he believes IBM can grow in 2021.
Coincidentally, IBM is in the process of amputating its managed infrastructure service group Global Technology Services, so it can be run as a separate firm under former CFO Martin Schroeter.
James Kavanaugh, Big Blue's CFO, said the as-yet-unnamed biz, dubbed NewCo and armed with 90,000 employees, is expected to launch by the end of the year. He then invited Schroeter to talk up the transition.
"Yes, we are working on a name," said Schroeter, who effused, "I could not be more excited about the future of this business." He said other upbeat things about commitment to clients and additional work to be done, though nothing worth reporting. ®