This article is more than 1 year old
We're gonna bounce back, says Intel's Gelsinger: Don't worry, most of our chips will be made by us... in 2023
Financial figures released minutes ahead of schedule after 'hacker' swipes and shares infographic
Updated Intel beat Wall Street's expectations in its latest financial earnings on Thursday amid a rough year in which the semiconductor giant reached out to rival fabs for help in meeting demand for its silicon – and felt the pressure from AMD and others.
The figures were released a little earlier than scheduled on Thursday after Chipzilla discovered someone outside the business had obtained an infographic [PDF] describing its latest results ahead of their publication, and was distributing it online, according to the Financial Times. When it learned of the leak, Intel made its numbers public minutes before the markets closed as opposed to after. It described the theft of the image from its news pages as hack, though didn't go into detail. It could be as simple as someone guessing the URL of the PDF.
That aside, here's a quick run down of those results:
Revenue for Q4 2020 was $20bn, down 1 per cent year-on-year, beating a forecast of $17.5bn. That completes Intel's 2020 financial year with total revenues topping $77.9bn, a bump of 8 per cent compared to the previous year.
Net income of $5.9bn, a decrease of 15 per cent compared to Q4 2019. For the year, net income was $20.9bn, down one per cent. In other words, it pretty much made as much profit in pandemic-hit 2020 as it did in normal 2019.
The Data Center Group (DCG) brought in $6.1bn in revenue for the fourth quarter, down 16 per cent year-on-year as its enterprise hardware business declined during the COVID-19 pandemic, and down 20 per cent sequentially. AMD's Epyc line of server processors, and other rivals, had an effect here, driving down average selling prices and sales. Annual revenues were $26.1bn, up 11 per cent, mind you.
The Internet-of-Things Group raked in $777m for the quarter, a fall of 16 per cent, and $3bn for the year, down 21 per cent. Mobileye recorded $333m in revenue in Q4, a bump of 39 per cent, ending the year at $967m, up 10 per cent.
Intel's non-volatile memory had a stellar year, with revenues for 2020 up 23 per cent at $5.4bn, although its Q4 revenues of $1.2bn were down 1 per cent. The FPGA group made $422m in the fourth quarter, a decrease of 16 per cent, and were down seven per cent for the year at $1.9bn.
Things were a little cheerier for its PC arm, the Client Computing Group. Here, Q4 revenues reached $10.9bn, an increase of nine per cent year-on-year, and brought in $40.1bn in sales for the year, up eight per cent.

Ongoing lockdown orders have driven more people to buy computers to work or learn from home, Intel said. As a result PC volume sales were up 33 per cent, led by "record notebook sales."

Gross margin of 56.8 per cent, a decrease of two percentage points from the year ago.
GAAP earnings per share for the quarter were $1.42, down 10 per cent from year-on-year.
Gelsinger says it's go for outsourcing production
Outgoing CEO Bob Swan and Intel's next chief exec Pat Gelsinger confirmed the mega-corp has and will outsource at least some of its chip production to outside foundries to stay on top of its deadlines. Gelsinger said most of Intel's products will be made by its own fabs come 2023, though Chipzilla will likely expand its use of TSMC and others.
Crucially, issues with Intel's own 7nm node, which was delayed due to defects, have now been resolved, apparently. "Based on initial reviews, I'm pleased with the health and recovery of the 7nm program," Gelsinger told analysts during an earnings call. Fixing the 7nm yield problems, however, has cost money, and as such the business expects its gross margins to take a hit in the future.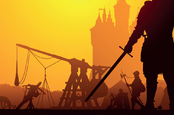 The hour grows late, the enemy are at the gates... but could Intel's exiled heir apparent ride to the rescue?
READ MORE
"Manufacturing decisions will be clarified after February 15, but not today," Swan said, referring to the day Gelsinger takes over.
In other words, it's down to Gelsinger to reveal Intel's roadmap for 2023, and it would appear Intel will be relying on outside fabs to fill in the gaps over the next couple of years at least. Rumor has it Chipzilla will use TSMC to fabricate at least some of its upcoming PC client Core processors this year as well as other types of chips, including GPUs, AI accelerators, and SoCs. It's said that Intel has already tapped up TSMC and UMC to fabricate some non-CPU components.
As Intel straightens out its 7nm process, it is said to be ramping up 10nm production, turning out chips for laptops and the like. The 10nm Ice Lake family is available in devices now, while 10nm Tiger Lake parts are coming later this year, we're told. Its discrete GPU Iris Xe, meanwhile, is available in thin and light gaming notebooks from vendors like Acer, Asus, and Dell.
Intel seems to have also made progress in the AI department. Swan said up to eight of its Habana Gaudi AI accelerators will be available on Amazon's AWS cloud platform as EC2 instances. The service is expected to be up and running later this year.
Gelsinger said he was thrilled to rejoin Intel as CEO, and described it as his "dream job." He started working for the company when he was 18 and rose to become its CTO over the 30 years he was there prior to his departure in 2009. "Intel has gone through many cycles before, there were periods where it was ahead, and periods where he was behind," he said.
Gelsinger mentioned that Intel was late to the multi-core game in the 2000s, and managed to bounce back regardless. "Great companies are able to bounce back. I believe the company has its best days in front of it," he concluded.
Intel shares rose more than six per cent before the markets closed, and then fell 4.5 per cent in after-hours trading. The corp declined to guide any guidance on its next year of numbers, though did project Q1 bringing in revenues of $18.6bn. ®
Updated to add
"We are investigating reports that non-authorized access may have been obtained to one graphic in our earnings material," Intel told The Register regarding the infographic "hack."
"Earlier today, once we became aware of these reports, we made the decision to issue our earnings announcement a brief time before the originally scheduled release time."