This article is more than 1 year old
Smartphones are becoming like white goods, says analyst, with users only upgrading when their handsets break
Upgrades? It's a bit of a Hotpoint
The smartphone trade is beginning to resemble the market for white goods with punters increasingly likely to wait until their device is broken before seeking a replacement.
In a survey of around 1,000 UK consumers, CCS Insight found that nearly 34 per cent believe they'll hang on to their current phones longer than previous models. This is more than double the amount of respondents who expected a swifter upgrade cycle. Refesh is not driven by a desire for the latest tech, but rather to replace an already broken phone.
"The phone market is evolving from routine two-yearly upgrades to one more closely resembling the market for white goods, which are often only changed when they stop working," said the analyst.
Over the past few years, the smartphone market has made tentative steps towards something resembling longevity, with devices receiving longer and longer support. Apple is the leader here, and still provides patches to the first-generation iPhone SE and iPhone 6s, despite the handsets being almost six years old. That, in the consumer space, is an eternity.
This is still the droid you are looking for
Android vendors don't perform quite as well, but there are obvious signs of improvement, with more and more brands promising at least three years' worth of updates. This is happening both within the Android One programme, and also independently of it. Samsung is a notable example of a brand that has committed to providing its devices with long-term support.
This gives consumers an incentive to hang onto their phones for longer, but it's not the only part of the equation. Over the past five years, the leaps in performance and functionality between smartphone generations have become more and more marginal. If you're looking for something to make calls and check emails, the iPhone 6S is functionally just as capable as the iPhone 12. It's not like how things were at the start of the 2010s, when phones meaningfully improved with each refresh, ditching low-res resistive screens for bigger, better capacitive versions, and packing faster silicon.
Some analysts, including Bernstein's Toni Sacconaghi, have postulated the average refresh cycle has elongated to as much as four years. There's some evidence for that, with Apple CEO Tim Cook previously blaming upgrade holdouts for a 15 per cent slump in iPhone revenue.
Industry-wide, we've seen plateauing sales since 2015 as the market reached its inevitable limits.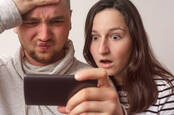 75 million smartphone sales up in smoke in Q1: Let's drill down into which brands took the most pain
READ MORE
It's not just the upgrade frequency that has changed. CCS Insight's data points to meaningful differences in how consumers buy phones, with almost two-thirds (63 per cent) of respondents choosing to head online rather than go in store. Before 2019, that number was just 36 per cent. In the same period, the high street's share of the pie diminished from 53 per cent to just 28 per cent.
You can blame the pandemic for this. Lockdowns, and a wariness to venture outside by some consumers, has had a profound impact on retail mobile sales, accelerating an existing trend. But that's not the whole story. The closure of 500 Carphone Warehouse stores in March also played a role, said CCS Insight.
Retail still has its place, with respondents saying they visited a store to obtain technical support (20 per cent), query their contract or bill (13 per cent), or buy an accessory (18 per cent). CCS Insight also highlighted an increasing popularity in trade-ins and pre-owned devices, both of which are easier to do in-person than remotely. But the time of bricks and mortar stores as the primary place where people obtain new handsets has finished.
"Phone shops will remain a vital channel for the industry, but it's clear their role is evolving," said CCS Insight analyst Kester Mann.
"Retailers need to find the right balance between selling, supporting customers and showcasing new technology to create some much-needed buzz for the sector. Successful companies will be those best able to integrate their strategy for retail and online selling, offering customers a coherent and complementary experience at every step of the way." ®