This article is more than 1 year old
Microsoft smashes Wall Street's expectations with $43bn sales bonanza
FY21 Q2 results buoyed by cloud demand, pandemic-driven IT focus
Microsoft far exceeded expectations for its second-quarter fiscal 2021 financial results, posting $43.1bn in revenue, an increase of 17 per cent.
With analysts anticipating only about $40.18bn on average, surprised investors snapped up company stock in after-hours trading, sending shares up about five per cent.
Satya Nadella, CEO of Microsoft, credited the better-than-expected earnings to "a second wave of digital transformation," which is a way of saying that pandemic-driven IT initiatives have spurred demand for Microsoft products and services.
CFO Amy Hood pointed to "accelerating demand for our differentiated offerings" as the reason for the growth of Microsoft's rent-a-computer, aka cloud, business.
The Windows-and-Azure biz's salient numbers, for the three months to December 31, were as follows:
Revenue: $43.1bn, up 17 per cent.
Operating income: $17.9bn, up 29 per cent.
Net income: $15.5bn, up 33 per cent.
Diluted earnings per share: $2.03, up 34 per cent.
Among Microsoft's business units, Productivity and Business Processes delivered $13.4bn, up 13 per cent. Within that segment:
Office Commercial products and cloud services revenue grew 11 per cent.
Office Consumer products and cloud services revenue increased 7 per cent.
LinkedIn revenue rose 23 per cent.
Dynamics products and cloud services revenue increased 21 per cent.
Microsoft's Intelligent Cloud group managed $14.6bn, an increase of 23 per cent. Within that segment:
Server products and cloud services revenue grew 26 per cent, largely on the strength of Azure's 50 per cent revenue surge.
The company's More Personal Computing group managed $15.1bn, up 14 per cent. Within that segment:
Windows OEM revenue rose 1 per cent.
Windows Commercial products and cloud services revenue grew 10 per cent.
Xbox content and services revenue increased 40 per cent.
Surface revenue rose 3 per cent
Search advertising revenue grew 2 per cent, but that's excluding traffic acquisition costs.
On top of that, Microsoft sent $10bn back to shareholders during the quarter, in the form of dividends and share repurchasing.
"It was a record quarter, driven by our commercial cloud, which surpassed 16 billion in revenue up 34 per cent year over year," said Nadella during Microsoft's conference call for investors. "What we are witnessing is the dawn of a second wave of digital transformation sweeping every company, and every industry."
The earnings call, made available via Microsoft Teams, went silent for several minutes due to technical troubles in the midst of Nadella's prepared remarks, which is hardly a good look.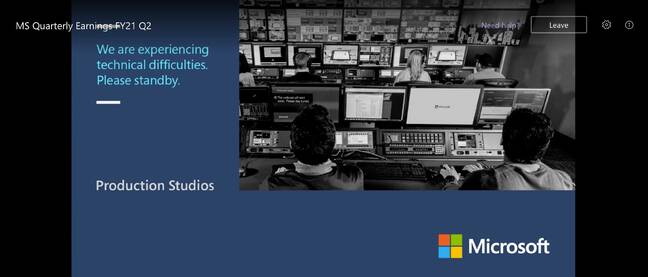 Click to enlarge
Nadella pointed to the recent SolarWinds attack – which took advantage of vulnerabilities in software like Microsoft's, among others – as a reminder how important security is to Redmond's customers. And he said those customers are increasingly turning to Microsoft for protection.
"Over the past 12 months, our security business revenue has surpassed 10 billion, up more than 40 percent," he said. "This milestone is a testament to the deep trust organizations placed in us."
In closing, Nadella said, "I'm energized by our increasing momentum and the expanding opportunity fueled by the structural change brought about by the rapid adoption of digital technology." ®