This article is more than 1 year old
University of Nottingham looks for new HR and finance software just 18 months after massive Unit4 system upgrade
Time to make some ch-ch-changes
The University of Nottingham is on the lookout for a new HR and finance system in a deal which could be worth £35m, barely a year after updating its current provider's system.
In a project dubbed "Digital Core", the university said it is seeking a "step change in the way it manages its human and financial resources, with knock-on benefits for teaching and research," according to a tender document.
"The future solution will be Software as a Service (SaaS) based and will provide greater efficiency, usability, and control for the university so that it may better serve its staff, students, and partners," the tender said.
The notice may raise a few eyebrows at the university, which attempts to educate around 45,500 students, because its finance system is based on Unit4's Business World, the successor to Agresso. As per a University blog, the finance system got a big upgrade on 1st July 2019.
The blog said: "We will be leap-frogging a number of versions ahead. The upgrade project will deliver some much-needed improvements to usability and process; a cleaner and more modern look and feel, as well as much improved web-based functionality through a single sign-on.
"As we consolidate into Business World, the project will also make changes to some working processes with the aim of improving efficiency and ease of use," it said.
Unit4 bought Agresso, an enterprise application firm specialising in the public sector and services industries, in 2000, although it kept the branding for some time. The product is now known as Business World but, apparently, just a year and a half after updating, that is no longer what the University wants.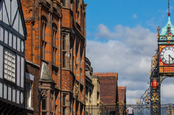 Two English councils sign up to Azure for six years in £35m reseller deal as ERP project faces delays, ballooning costs
READ MORE
"The University of Nottingham is in the early stages of reviewing and improving the way it delivers HR, finance and procurement services," the institution told The Register.
"We are working closely with our employees to establish the best way in which we can deliver these services, and what requirements they would like to see in a new HR, finance and procurement system. A procurement process has commenced to identify a supplier that we can work with."
A spokesperson at the Uni added that: "Agresso was upgraded in 2019 to ensure continuity of service, in preparation for the procurement process we have now started."
The changes may also be part of a larger shakeup. The university's current HR and payroll system is ResourceLink, provided by the vendor Zellis - for the moment at least.
"ResourceLink, along with the university's e-procurement and e-catalogue systems, are in scope for potential replacement," the university spokesperson said.
Some organisations have had difficulty getting Business World to work in practice. In November last year, The Register revealed that The City of Edinburgh Council struggled with a Business World rollout for several years, and last year opted for an Oracle upgrade instead.
The troubled project, which began in 2015, ended up with the council's IT service provider CGI facing off with Agilisys in Scotland's supreme civil court. Agilisys had been subcontracted to provide the Unit4 solution. In a 2018 opinion [PDF], Lord Bannatyne ruled that CGI had failed to provide any contemporaneous evidence to support its claims, in a case experts said showed how important it is to keep a paper trail of deadlines and documentation of reasons for any delays.
The vendor has notched up successes though. Last autumn it won a contract to replace an ageing SAP system at Surrey County Council in a £30m deal. That project has a go-live date of December 2021 because of a support cut-off with the German vendor's software. ®