Samsung's vice chairman and de facto boss Lee Jae-Yong has reportedly sent staff motivational messages from inside prison.
52-year-old Jae Yong was jailed last week for bribery, concealment of criminal proceeds, and embezzlement. But being inside the big house hasn't stopped the exec from continuing to influence Samsung's operations.
In memos posted to Samsung's corporate intranet, and reported by South Korean newswire Yonhap, Jae-Yong apologised for giving the company "this big burden" and pledged to " work on self-discipline and self-reflection in a humble way."
He then urged Samsung staffers to work hard and deliver on promises made to customers and other stakeholders.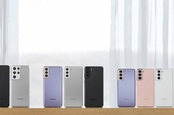 Samsung tones down sticky stuff in the Galaxy S21 series, simplifying repairs massively
READ MORE
Which is quite the management masterclass in doing what the boss says, not doing what the boss does, seeing as Jae-Yong was sent down for that aforementioned bribery, concealment of criminal proceeds, and embezzlement.
At least Samsung's workers have decent kit to flog: the company yesterday revealed that its new flagship Galaxy S21 smartmobes use a new OLED display that can get by with 16 percent less power than previous pixel-presenters.
The display does the job thanks to a new "organic material" that boasts improved "luminous efficiency".
Samsung Display Co. says the new materials it invented mean "electrons flow faster and more easily across the display's organic layers". Less resistance translates to more efficiency and, Samsung hopes, a better smartphone ownership experience as users guzzle data for longer on 5G networks. ®