This article is more than 1 year old
Robinhood plays Sheriff of Nottingham as it pauses GameStop, AMC, BlackBerry etc stock sales, gets sued
He steals from the rich, and gives to the... wait, which side is the poor side now?
The populist online investor uprising to punish Wall Street traders by propping up shorted stocks hit a wall on Thursday when retail brokerage firm Robinhood announced that customers could, for now, sell but not buy eight turbulent securities.
"In light of recent volatility, we are restricting transactions for certain securities to position closing only, including $AMC, $BB, $BBBY, $EXPR, $GME, $KOSS, $NAKD and $NOK," the firm said in a blog post earlier today.
Robinhood also said that it had increased the margin requirements for certain securities – the equity required to buy a stock with borrowed funds. The online brokerage appears even to be closing out certain positions for some of its customers without their permission, action specifically allowed under section 31 of Robinhood's Customer Agreement [PDF].
Other online trading firms, such as Alpaca Securities, TD Ameritrade, Schwab, and Merrill Lynch, also restricted trading in this group of unusually active stocks.
The forbidden symbols refer to: AMC Entertainment Holdings, BlackBerry, Express, GameStop, Koss Corporation, Naked Brand Groups, and Nokia Oyj. Earlier this week, online activists, amateur investors, and others weaponized shares in these companies for various reasons that amount to an insurgency against the financial establishment and the status quo.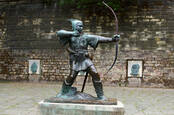 Hackers? Leap day? Nope, just plain old internet hysteria took down stock-trading-for-noobs app RobinHood
READ MORE
The Reddit forum WallStreetBets, where the GameStop retail investor army mustered, briefly went private on Wednesday. Discord, a chat service, also shut down a separate but related WallStreetBets server for community guidelines violations, supposedly unrelated to overenthusiastic investing in moribund businesses. But WallStreetBets is once again public on Reddit – and Discord said a new chat server has been created, and it is helping moderators keep a grip on the discourse.
We note that the GameStop stock fell from almost $470 per share around 1000 US Eastern Time to around $230 per share, with a brief stop at $492 per share at 1410 before dropping down to $193 a share at time of writing. Just as we were about to publish this article, Robinhood said in a new blog post it plans to allow people to buy the stocks again on Friday albeit with restrictions:
Starting tomorrow, we plan to allow limited buys of these securities. We'll continue to monitor the situation and may make adjustments as needed.
To be clear, this was a risk-management decision, and was not made on the direction of the market makers we route to.
We stand in support of our customers and the freedom of retail investors to shape their own financial future. Democratizing finance has been our guiding star since our earliest days. We will continue to build products that give more people—not fewer—access to our financial system. We'll keep monitoring market conditions as we look to restore full trading for these securities.
Despite the Bitcoin-style exhortations from various interested parties to "hold the line" and not sell – in order to keep share prices high, and totally screw the hedge funds that heavily shorted the stock – some people involved in the GameStop insurrection still complained about their potential losses due to Thursday's stock sale restriction.
The brokerage lockdown has prompted calls for an investigation by US House Rep Alexandria Ocasio-Cortez (D-NY 14), and saw possibly her first proposal to be endorsed by Senator Ted Cruz (R-TX), support that Ocasio-Cortez quickly rejected.
"I am happy to work with Republicans on this issue where there's common ground, but you almost had me murdered three weeks ago so you can sit this one out," she said via Twitter, in reference to the January 6 insurrection at the US Capitol.
Senator Elizabeth Warren (D-MA), meanwhile, proposed stronger intervention by regulators.
For years, the same hedge funds ... have treated the stock market like their own personal casino while everyone else pays the price
"For years, the same hedge funds, private equity firms, and wealthy investors dismayed by the GameStop trades have treated the stock market like their own personal casino while everyone else pays the price," said Warren in a statement on Thursday.
"It's long past time for the SEC and other financial regulators to wake up and do their jobs - and with a new administration and Democrats running Congress, I intend to make sure they do."
In a phone interview with The Register, Michael Purves, CEO of Tallbacken Capital Advisors, said there have been many investing manias before. "What's different now is that we have these social media platforms that allow for instantaneous communication around the world and a high level of anonymity," he said.
Professional investment entities like hedge funds, he said, have ganged up to achieve specific goals. The situation with GameStop, he said, can be seen as a democratization of that sort of behavior.
"A swarm of locusts can take down an antelope," he said. "That seems to be what's happening here."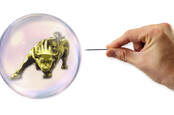 What happens when the internet realizes the stock market is basically a casino? They go shopping at the Mall
READ MORE
Purves said the various brokerage firms taking action to limit trading can be seen as trying to cool the party down before the cops arrive. While he expects that these firms have legal cover to intervene through their terms-of-service agreements, which no one ever reads, he allowed that lawsuits may follow – as they have. Brendon Nelson, for one, has sued Robinhood in New York for breach of contract, acting in bad faith, and negligence, and is seeking class-action status.
At the same time, Purves said, these firms might be exposed to even more litigation down the road if they failed to act. The fact that so many brokerages took action to limit trading looks a bit like they're taking comfort in the herd, he said.
"Probably their own risk management systems are going haywire," Purves said, noting that there were over 1bn Nokia shares traded yesterday, compared to typical volume of around 60m shares. "That's insane."
Purves suggested that the salient question is whether this is a blip or the new normal? "The question is, does the ganging up on a heavily shorted stock or a commodity become more of a source of returns," he said.
A Tallbacken research note provided to The Register, framed the issue in a slightly different way, asking whether the retail investor army (and its allied professional cadre) will continue to play a game of chicken with the hedge funds that have staked out short positions for days, weeks, longer still? And if this army tries to sustain itself, how will it hold together and how ready will it be to take losses?
Seeing this only as a populist battle against the establishment ignores the fact that short seller targeted in this affair, Melvin Capital, was bailed out by other financial giants, Citadel LLC and Point72 Asset Management, which invested $2.75bn in the stricken hedge fund. In other words, it was an intra-establishment power move, too.
A spokesperson for America's financial watchdog – the Securities and Exchange Commission – was not available for immediate comment. ®