This article is more than 1 year old
SAP: Come to the cloud with us, we promise there's total accountability and lower TCO with lift-and-shift ERP package
SaaS pick 'n' mix might appeal more than standard processes for S/4HANA upgrade, though
SAP has launched a lift-and-shift-to-the-cloud service for customers' on-premises ERP systems, taking accountability for performance and promising lower costs.
The service is meant as a stepping stone for businesses onto more standardised processes, and, naturally, upgrading to SAP's S/4HANA ERP system. The move follows disappointing results at the ERP giant last year, when it realigned financial guidance in order to buy time to get more customers onto the cloud as traditional licence sales crashed.
Launched today, the "RISE with SAP" programme is the company's plan to get reluctant on-prem users to move onto the fluffy white stuff. The German vendor said it would work with big-name service partners to take a customer's existing ERP system into the cloud as it is, potentially with a hybrid public-private cloud. SAP would then be accountable for the support, management services, and infrastructure.
The next step in SAP's plans is to help "modernise and simplify the customer's software landscape". That means adopting SAP's "intelligent enterprise architecture", which means front-end customer experience and back end supplier management all coming together in-memory S/4HANA technology.
This is a migration many customers running older ERP iterations have been doggedly reluctant to take, not least because it requires the adoption of standardised processes and eschewing all those customisations that have built up over the years.
Speaking to The Register, Thomas Saueressig, who leads the SAP board in product engineering, said customers would be able to bring their on-prem licences and maintenance deals and have them accounted for in the same way that the software giant figures out its subscription fees.
And this is all in SAP's interest, of course. In October last year, announcing third-quarter results so abysmal they prompted a 25 per cent crash in SAP's stock market value, the company adjusted short-term revenue expectations for long-term cloud gain.
CFO Luka Mucic said at the time that the cloud model would increase customer lifetime revenue. "We are effectively expanding our share of the wallet," he told investors.
Saueressig told us this benefit for SAP would be reflected in "an attractive model for the customer to convert maintenance into the cloud subscription."
He committed to the total cost of ownership being lower in the cloud than comparable current payments. The Reg has no hard and fast facts about pricing to share at this point.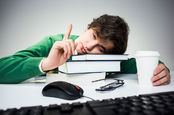 Teasing HANA database upgrade, SAP leaves crowd wondering if software giant has lost its innovation mojo
READ MORE
As part of the RISE strategy, SAP has bought Signavio, a specialist in business process analysis and management, in a deal said to be worth $1.2bn.
Saueressig said SAP will use its analysis tools to figure out how to get companies to more standardised processes on S/4HANA, but admitted the journey could be complex and take a number of years. But companies want to move from capex on-prem to opex in the cloud now, he claimed.
"We want to give [customers] a helping hand now to move them on a public cloud infrastructure as a service and help them on their way, step by step with the process intelligence to optimise the processes. This will be a journey," he said.
But some analysts were sceptical about the move to standardised systems. Duncan Jones, veep and principal analyst at Forrester, said SAP is trying to make it easier for existing customers to embrace a move to S/4HANA.
"Our data suggests that there is a very large level of inertia amongst SAP customers, far more than many other ERP products. They are happier, and satisfied with the current system," he said.
Jones added that if customers want a simple lift-and-shift to take their current system into the public cloud, there were plenty of options already out there.
In terms of modernising customer experience, CRM or supply chain management, in many companies business units are leading IT strategy and picking off-the-peg SaaS solutions, leaving IT departments to knit them together around an existing instance of ERP, Jones said.
SAP's new offer might not be enough to significantly change that thinking, he said. ®