This article is more than 1 year old
Amazon CEO Jeff Bezos to step down this summer, AWS boss Andy Jassy to step up
Multibillionaire founder channels Bill Gates, will become exec chairman of cloud giant with gift shop on the side
Jeff Bezos, Amazon's founder and chief executive, will step down from his CEO role this summer, handing the job to the head of its AWS cloud computing division, Andy Jassy.
The announcement was timed to coincide with Amazon's full-year financial results today, and Bezos was quoted as saying: "Right now I see Amazon at its most inventive ever, making it an optimal time for this transition."
Bezos will leave the CEO position in the third quarter of 2021, the internet giant said, meaning some time in the summer, and become Amazon's executive chairman. It's the same sort of transition that his rival for richest man in the world, Bill Gates of Microsoft, did 20 years ago, almost to the day.
In a note to staff, Bezos said he will still oversee Amazon's continuing progress while focusing on things including his rocket biz Blue Origin and newspaper The Washington Post:
In the Exec Chair role, I intend to focus my energies and attention on new products and early initiatives. Andy is well known inside the company and has been at Amazon almost as long as I have. He will be an outstanding leader, and he has my full confidence.
Being the CEO of Amazon is a deep responsibility, and it's consuming. When you have a responsibility like that, it's hard to put attention on anything else. As Exec Chair I will stay engaged in important Amazon initiatives but also have the time and energy I need to focus on the Day 1 Fund, the Bezos Earth Fund, Blue Origin, The Washington Post, and my other passions. I've never had more energy, and this isn't about retiring.
Amazon couldn't be better positioned for the future. We are firing on all cylinders, just as the world needs us to. We have things in the pipeline that will continue to astonish.
Bezos started Amazon as an online bookseller back in 1993 when the commercial internet was still very much in its infancy. His parents gave him $300,000, and he warned early investors that there was a 70 per cent chance that the business would fail. Through a relentless focus on customers, combined with an aggressive use of its growing platform to drive down costs, Amazon has become one of the world's largest companies – and Bezos, with his massive shareholding, the richest man in the world, worth roughly $185bn.
In recent years, Bezos has stepped back from the day-to-day running of the megacorp though got more involved when the impact of the COVID-19 coronavirus pandemic became clear. Amazon has used the extraordinary global lockdown conditions to make hay: something reflected in its financial results released today – Amazon reported its first-ever $100bn-plus quarter in terms of revenue.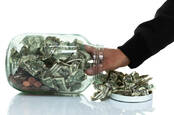 Amazon coughs up $62m to shoo away claims it stole driver tips, cut pay rates without telling them
READ MORE
Amazon's reputation has also taken a hit, however, with countless stories of appalling work conditions, poorly paid employees and – just today – a $62m settlement to independent drivers who said Amazon stole their tips for years despite promising them, and customers, that 100 per cent of all tips would go direct to drivers.
Regardless, it's hard not to be impressed by the wave of innovations that Amazon has provided to tens of millions of customers, to the extent that it has become possible to order almost any product on Earth with a few taps on a smartphone and have it delivered, often for free, and within just a few days. Amazon has revolutionized consumer purchasing.
And then there's the whole cloud computing thing that it leads the world in.
"If you do it right, a few years after a surprising invention, the new thing has become normal. People yawn. That yawn is the greatest compliment an inventor can receive," Bezos said in a statement. "When you look at our financial results, what you're actually seeing are the long-run cumulative results of invention." ®