ESA signs off on three more service modules for Moon mission – despite agency boss casting doubt on 2024 landing
Director General injects some reality into the lunar landing schedule
The European Space Agency has signed off on three more European Service Modules for NASA's Orion spacecraft, taking the total to be delivered to six.
Airbus is the lucky recipient of the contract, which is in excess of €650m.
Two of the three new European Service Modules (ESM) will be part of ESA's contribution to the Lunar Gateway and give the agency the opportunity to fly astronauts there. The other will be used as part of the International Space Station (ISS) barter agreement to keep ESA's astronauts aboard the outpost during its extended service life (potentially to 2030.)
The initial three ESMs were also part of the ISS agreement. The first is already at NASA's Kennedy Space Center in Florida, awaiting the monster rocket of the Space Launch System (SLS) while a second is finalising integration in Bremen, Germany. A third is under construction.
The ESM includes four solar arrays and carries fuel to power its one main engine and 32 smaller thrusters. It also provides power and life support to keep the crew of the attached Orion module alive.
ESA representatives proudly told reporters that the ESM was the first time the agency had been entrusted with a position on the critical path in human spaceflight by NASA, although a cynic might point out that the main engine for the ESM came from the Space Shuttle Orbital Manoeuvring System (OMS). ESA said six flight-worthy OMS units were in stock, after which an alternative would be required.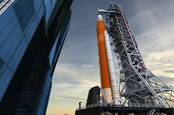 NASA to have another go at firing Space Launch System engines because just over a minute of data won't cut it
READ MORE
As it has turned out, the ESM is unlikely to be a blocker on the road to a first launch of the SLS in 2021. The pesky repeat Green Run test has far greater potential for introducing a delay.
Of NASA's dates, outgoing ESA Director General Jan Wörner noted that 2024 for a human landing "might not be feasible," adding with wonderful understatement that he had heard from NASA that both the schedule and goal were "really difficult."
"I'm sure that in 2025, 2026, there will be something and I hope that we will have also some Europeans at the end of this decade over there," he said.
As for the impact of SLS delays on the ESM hardware, ESA told The Register that while the hardware should be OK, once the service module was loaded with propellants, things became more limited and "unloading is something you would like to avoid because of complexity."
No pressure on getting the SLS launched on time then, NASA. ®