This article is more than 1 year old
Accused of underpaying or snubbing women and Asian techies, Google spends pocket change to make it all go away
You, yes, thousands of you, take this $4m and get back to work
Google will pay at least $3.8m to settle a dispute with Uncle Sam in which the ad giant was accused of paying woman engineers less than their male colleagues, and for discriminating against female and Asian candidates applying for technical positions.
The Office of Federal Contract Compliance Programs within the US government's Department of Labor launched a formal probe into the Silicon Valley goliath after officials conducted a routine audit of Google's hiring practices.
That investigation found evidence that the mega-corp underpaid its female employees in its Mountain View headquarters in California, as well as in Seattle and Kirkland, Washington, and was less likely to hire female and Asian software engineers applying for roles in San Francisco and Sunnyvale in California as well as Kirkland.
"Pay discrimination remains a systemic problem," compliance office director Jenny Yang said in a statement. "Employers must conduct regular pay equity audits to ensure that their compensation systems promote equal opportunity."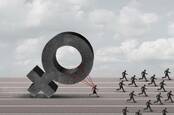 Four women seek release from forced arbitration to sue Infosys for widespread gender discrimination
READ MORE
The $3,835,052 or more Google must cough up will be roughly split in three parts. One part, amounting to $1,353,052, will be used for back pay and interest to 2,565 current female engineers. That's about 500 bucks each on average.
A second part, totaling $1,232,000, will compensate 1,757 female and 1,219 Asian candidates who were not hired after trying for software engineering roles. That's about 400 bucks each. Google said it is giving job offers in software engineering to 51 female and 17 Asian applicants in the wake of this agreement. Google employs more than 100,000 full-time workers.
The third part is a pot at least $1.25m in size to equalize pay for Google's female engineers in its California, Washington, and New York offices. The cash will be paid out over the next five years.
"The US Department of Labor acknowledges Google's willingness to engage in settlement discussions and reach an early resolution," said Jane Suhr, San Francisco regional director of the compliance office.
"The technology industry continues to be one of the region's largest and fastest growing employers. Regardless of how complex or the size of the workforce, we remain committed to enforcing equal opportunity laws to ensure non-discrimination and equity in the workforce."
In a statement, a Google spokesperson told The Register: "We believe everyone should be paid based upon the work they do, not who they are, and invest heavily to make our hiring and compensation processes fair and unbiased.
"For the past eight years, we have run annual internal pay equity analysis to identify and address any discrepancies. We're pleased to have resolved this matter related to allegations from the 2014-2017 audits and remain committed to diversity and equity and to supporting our people in a way that allows them to do their best work." ®