This article is more than 1 year old
In the old days, coups started by seizing TV and radio stations. Now they crimp the internet at 3am
And yes, that's what happened in Myanmar this week
Something nasty happened to the internet in Myanmar at around 3am local time (2030 UTC Sunday). Traffic dipped markedly. And by sunup the reason for the situation became clear: the nation's military had decided to reclaim power after a brief period of democracy, and presumably restricted internet access to make it harder to organize resistance.
The independent and non-partisan NetBlocks Internet Observatory detected what it says was a two-stage degradation of local connectivity:
Update: Internet connectivity in #Myanmar has fallen to 50% of ordinary levels as of 8:00 a.m. local time amid an apparent military coup and the detention of civilian leaders; pattern of disruption indicates centrally issued telecoms blackout order 📵

https://t.co/Jgc20OBk27 pic.twitter.com/71fHI3sRv3

— NetBlocks (@netblocks) February 1, 2021
Cloudflare's internet radar, which monitors traffic and usage trends, also spotted a dip in local data flows, and attributed it to the coup. The image below depicts Cloudflare's 30-day internet traffic assessment for the nation, with the dip on the extreme right-hand edge representing a deeper-than-usual drop in traffic at the time the coup was enacted.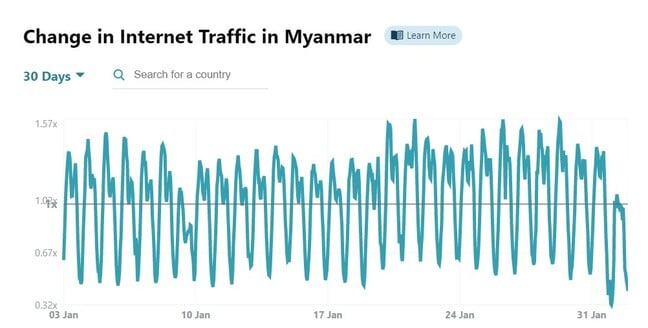 Cloudflare's 30-day Internet Radar traffic report for Myanmar ... Click to enlarge
Myanmar is served by five submarine cables, according to Telegeography's always-fascinating submarine cable map. The Register cannot find reports of outages on any of the cables that land in the nation, suggesting that Myanmar's networks have been crimped within its borders. Connections through the telco Telenor and state-owned Myanma Posts in the country were hampered in particular, presumably under the orders of the military.
Further evidence of the cables' ongoing operations comes from Cloudflare, which has noted that malicious traffic originating in Myanmar is still making its way beyond the troubled nation, and even increased slightly since the coup.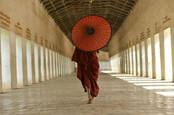 Facebook admits it was 'too slow' to ban Myanmar regime
READ MORE
Cloudflare also recorded an unusual Monday incident in which 56 per cent of Myanmar's internet activity was from desktop machines. Mobile traffic usually accounts for 76 per cent of Myanmar's online activity, suggesting action was taken against mobile networks, too. By midday, connectivity was said to be approaching normal, depending on the region.
Just what happened to Myanmar's networks is not clear. It is, however, clear that the nation's military has decided it wants to be back in charge.
Before the military allowed democratic elections, it liberalized the nation's telecommunications industry. Once democracy came into effect, global outfits rushed in to open offices there in the expectation that an economic boom would take place, driven in part by the new government digitizing services and a soaring number of smartphone users.
As China so vividly demonstrates, autocracies love to control their populace with technology. Myanmar and its citizens are heading into dangerous times. ®