This article is more than 1 year old
Synology to enforce use of validated disks in enterprise NAS boxes. And guess what? Only its own disks exceed 4TB
NAS spinner's drives are Toshiba tin with custom firmware
Synology has introduced its first-ever list of validated disks and won't allow other devices into its enterprise-class NAS devices. And in a colossal coincidence, half of the disks allowed into its devices – and the only ones larger than 4TB – are Synology's very own HAT 5300 disks that it launched last week.
Seeing as privately held Synology is thought to have annual revenue of around US$350m, rather less than the kind of cash required to get into the hard disk business, The Register inquired if it had really started making drives or found some other way into the industry.
The Taiwanese network-attached-storage vendor told us the drives are Synology-branded Toshiba kit, though it has written its own drive firmware and that the code delivers sequential read performance 23 per cent beyond comparable drives. Synology told us its branded disks will also be more reliable because they have undergone extensive testing in the company's own NAS arrays.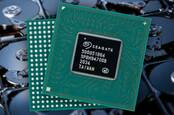 Seagate says it's designed two of its own RISC-V CPU cores – and they'll do more than just control storage drives
MORE STORAGE FUN
The biz referred The Register to a document offering more detail on how its firmware improves the drives. That document contains a page titled "Compatibility/Validation Policy Change" that outlines a new policy whereby only certain drives will be allowed into future Synology enterprise kit. And that list includes all the new HAT 5300 range, but just one disk apiece from market leaders Seagate, Western Digital, and Toshiba. Those third-party disks also top out at 4TB.
Synology's HAT drives, by contrast, offer 8TB, 12TB and 16TB capacity. If you try to use non-validated drives, Synology warns "storage pools and SSD caches cannot be created."
The new policy applies as of the release of three new Synology NAS appliances intended for enterprise use and will be applied to other models over time.
So to cut a long story short, if you want to get the most out of Synology's new and future enterprise NAS devices, you'll need to buy Synology's own SATA hard disk drives. Any boxes you already own will work just fine with any drive.
The new models include the RS3621RPxs, which sports an unspecified six-core Intel Xeon processor and can handle a dozen drives, then move data over four gigabit Ethernet ports. The middle-of-the-road RS3621xs+ offers an eight-core Xeon and adds two 10GE ports. At the top of the range, the RS4021xs+ stretches to 3U and adds 16GB of RAM, eight more than found in the other two models.
Hardware compatibility lists are routine in the enterprise and data center world, because array vendors find it tiresome to troubleshoot issues that may have been caused by the vast number of hard disks on the market. However a storage-centric friend of The Register tells us that as some solid-state and spinning disks do things slightly differently, those lists of preferred or certified drives can be very specific. However, it is unusual for a manufacturer like Synology to specify hard disk drives bearing its own branding and custom firmware as the only way to operate above a certain capacity.
As a junior vendor, Synology is therefore asking rather a lot of potential buyers.
If the corp really can deliver the performance improvements it claims its firmware enables, being locked into Synology drives may be a sound decision. But the storage industry does love to pick fights – see our sibling site Blocks and Files' coverage of Pure Storage and NetApp feuding for an example of the fun to be had in the storage blogosphere – so Synology could be setting itself up for a stoush with this decision to drive buyers to its own drives. ®