This article is more than 1 year old
ByteDance sues Tencent over lack of link love on its messaging services
Is there anywhere in the world TikTok isn't in trouble?
ByteDance, the Chinese company that makes TikTok, has sued local rival Tencent for alleged monopoly practices.
In a complaint posted to Sina Weibo, the company alleges that Tencent's WeChat and QQ messaging services won't allow links to content on Douyin, the Chinese version of TikTok.
The complaint points out that Tencent has more than a billion users, so disallowing Douyin content looks a bit like exercising monopoly power.
Douyin and ByteDance want Tencent to stop it and pay $14m by way of compensation, so have sent the matter to a Beijing court.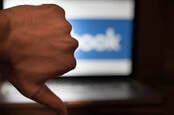 Facebook crushed rivals to maintain an illegal monopoly, the entire United States yells in Zuckerberg's face
MEANWHILE ...
ByteDance's preferred remedy is interesting in the context of China's recent introduction of new anti-monopoly laws designed in part to bring the nation's internet giants into line.
Tencent has said it will counter-sue.
Complicating matters further, Douyin on Monday said it will not allow financial services and medical influencers who use its platform to share their work on WeChat or QQ, because it doesn't want promotions for dodgy products to reach other platforms.
That prohibition is in line with China's renewed emphasis on consumer safety.
The case against Tencent means ByteDance has troubles at home to go with its fight to keep TikTok alive in the USA , class action lawsuit in the UK and what looks a lot like a permanent ban in India. ®