This article is more than 1 year old
Google's cloud services lost $14.6bn over three years – and CEO Sundar Pichai likes that trajectory
Sees businesses signing up for long deals, confident the black ink will come
Google's various cloud services bled $14.6bn in losses in the past three years while also growing revenue to new heights.
News of the losses emerged on Tuesday when Google's parent company Alphabet published its Q4 and full-year results [PDF] and, for the first time, reported financial performance for Google's cloud services, which include the Google Workspace personal productivity tools and Google Cloud Platform IaaS, PaaS and SaaS services.
The results, as shown in the table below, are awash with red ink.
| Year | 2018 | 2019 | 2020 |
| --- | --- | --- | --- |
| Revenue in millions | $5,838 | $8,918 | $13,059 |
| Profit (loss) in millions | ($4,348) | ($4,645) | ($5,607) |
But Google isn't fussed. On Alphabet's earnings call CEO Sundar Pichai pointed to total cloud revenue of $13.06bn, which represented a 47 per cent year-over-year increase, and said Google Cloud Platform's progress within this group was "meaningfully above the growth rate for cloud overall." Pichai also said that Alphabet's backlog of revenue "grew to nearly $30bn, up from $19bn in Q3, nearly all attributable to cloud."
"Although increases in backlog do not directly correlate to revenue trends, the growth in backlog demonstrates the success Google Cloud is having with large enterprises, which are signing meaningful long-term commitment agreements," he said.
The internet giant will therefore "continue to invest strongly in the business given the momentum we are seeing."
"These investments in our go-to-market organization have helped us win larger deals including several billion-dollar deals in 2020," Pichai added. "Deals over $250 million more than tripled in the same period. We're also seeing strong growth through our broad network of partners, with our channel partner ecosystem growing more than 5x, and indirect channel revenue, more than doubling in the past two years."
Asked by a financial analyst to explain the Google's overall cloud strategy, Pichai offered the following observation:
It's an area in which the longer you are in, the cohorts add up and so contributes more and the economies of scale starts working as well. But we are definitely investing ahead to making sure we are able to serve the customers globally.
CFO Ruth Porat characterized the plan as "investing to really position ourselves well across industries and geographies." She added that Google is "investing in product, go to market, data centres" and "keenly focused on delivering for both customers and shareholders and that, of course, includes an intense focus on the path to profitability."
But when Google's combined cloud efforts might turn a profit was not disclosed.
The rest of Alphabet was in rude health. Annual revenue reached $182.5bn, up 13 per cent or $21bn compared to 2019. Q4 saw $56.9bn come through the door, up 24 per cent on $46.07bn the year before.
Net income for the year was $40.3bn, up just under $6bn or 17 per cent.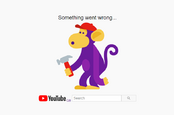 World+dog share in collective panic attack as Google slides off the face of the internet
READ MORE
Revenue from "other bets" – Alphabet's portfolio of companies that aims to create new Google-scale disruptors in other industries – fell from $659m to $657m. Losses on those bets fell from $4.8bn to $4.5bn. Pichai was as unfussed about those losses as he was about Google Cloud's – they were explained away as necessary investments to pursue long-term opportunities.
The CEO was also pleased that Google has made progress in AI, saying "I think we are at an inflection point, and we are investing to build better models and deepen our understanding and do it in a more generalized way. And when we do that, it will apply horizontally across our products."
Which means more personalised everything, based on Google's enormous data troves. And probably more ways to make that happen in the Google cloud, too. ®
PS: Google just killed off its in-house games development teams working on Stadia titles, leaving outside developers to produces titles for the platform.