This article is more than 1 year old
So Jeff Bezos is stepping back from Amazon to play with his space rockets. Who's this Andy Jassy chap?
Cloud supremo to become CEO of one of Earth's biggest super-corps
Analysis Even though Amazon is one of the largest and most recognized companies in the world, such was the outsized stature of its CEO and founder Jeff Bezos that the ecommerce giant's actions have often been personally associated with him.
Bezos' astronomical wealth, right now about $200bn, has inevitably pulled the entrepreneur in different directions, and not all of them good.
In addition to buying one of the United States' most renowned national newspapers, The Washington Post, Bezos has also joined fellow famous businessman Elon Musk in looking at the future of space travel with his Blue Origin company. And then you have Bezos' private life exposed by the National Enquirer: his separation from his wife MacKenzie, relationship with TV star and helicopter pilot Lauren Sanchez, and then possibly the most expensive divorce in history.
Even that exposure was an extraordinary tale: one theory is that Bezos' phone was hacked in early 2018 by none other than Saudi Arabia's crown prince Mohammed bin Salman, who sent him a booby-trapped WhatsApp message that compromised his device, allowing snoops to ransack it for compromising messages and photos of the Amazon supremo. Through a still-murky series of events, Bezos ended up being threatened with blackmail by the publisher of the National Enquirer.
But Bezos is nothing if not decisive: he called the extortionists' bluff, hired his own investigators to probe the security breach, and created international upset as the United Nations started warning about the dark world of hackers-for-hire across the world.
Why would a crown prince pwn Bezos's phone? Perhaps it was part of an effort to get to Washington Post columnist Jamal Khashoggi who was critical of bin Salman and his regime, which at the time was a darling of America's business and political elites. Khashoggi was subsequently murdered and dismembered inside the Saudi consulate in Istanbul in October 2018, almost certainly on bin Salman's orders.
And now Jassy
And so we go from one of the business world's most colorful figures running one of the world's largest companies to Andy Jassy. Andy who? Andy Jassy, the current head of Amazon's cloud computing arm, AWS, and, from this summer, one of the most powerful CEOs on the planet.
You could be forgiven for not knowing much, if anything, about Andy Jassy; regular Register readers ought to know him well. Despite being the man responsible for what has arguably been one of the most significant shifts in modern computing – organizations shifting data and processing from their own on-prem computers to off-prem "cloud" systems run by a third party – Jassy has not ordinarily been mainstream front-page material, even though his business efforts are now effectively the driving engine behind Amazon's world domination.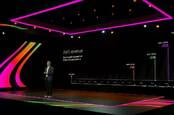 AWS boss calls for racial justice, slams enterprise rivals, unveils a raft of real and promised services
READ MORE
Jassy is pretty much the archetypal American CEO: born into wealth and following an East Coast elite upbringing. His father was a top lawyer in New York City, and Jassy grew up in the suburb of Scarsdale, ranked the richest town and wealthiest school district in America with a median family income of $300,000.
He attended Harvard and left with honors as well as another classic CV marker – a lead role at Harvard's newspaper, the Crimson – except he wasn't an editor but the advertising manager. And it was as a marketing manager that he ended up at Amazon in 1997, just when the company was starting to make serious forays into people's lives with its cutting-edge e-commerce offerings.
Jassy helped found Amazon Web Services in 2003, getting into the market for cloud computing at a critical time and wiping the floor with competing offerings from tech giants like Microsoft and Google. He became CEO of AWS in 2016, and his achievements in the industry are widely recognized: AWS is the planet's leading cloud provider, after all. His association has made him a very rich man, even if he has nothing on his current boss Bezos. Thanks in large part to shareholdings in Amazon, he is worth an estimated $380m.
Spoiling
What about the man himself? Well, he's not above a scrap, even when that involves taking on one of the world's biggest egos in the form of Oracle's Larry Ellison. Jassy took aim at Oracle before he was even AWS CEO, dedicating portions of his public appearances to slamming the database giant.
"It is extremely rare that I meet with an enterprise customer that isn't looking to flee their existing database provider. They just don't feel like they are treated in the right way," Jassy told one conference crowd in 2015 before launching Amazon's migration services.
That led to a lengthy battle with Ellison, one that Jassy seemed to enjoy. Oracle blundered through the cloud era, and was forced to play catch-up. And although Amazon was heavily reliant on Oracle's technology initially, Jassy kept poking the bear. In 2017, he told another conference audience: "Oracle overnight doubled the price of their software to run on Microsoft and AWS. Who does that to their customers?"
Oracle was irritated but sanguine, telling reporters that Amazon couldn't do without it, no matter how much they complained. "We don't believe that Amazon Web Services has any database technology that comes close to the capabilities of the Oracle database," said Larry Ellison.
But by the end of 2018, Jassy had taken to Twitter to goad Oracle about how Amazon was going to ditch Big Red in favor of its own tech, around the same time we started referring to the AWS boss as Sassy Jassy.
Oracle kept mocking. And then Andy did it, cutting Amazon free from Oracle in October 2019.
Mind tricks
Jassy also showed his willingness to pick a fight when it came to a huge cloud computing contract for the US Department of Defense. The JEDI IT project was eventually awarded to Microsoft, but it is a sign of Jassy's determination and refusal to let go of something that we can't bring ourselves to outline the full, painful history of the subsequent JEDI fight. Here instead is a story that contains within it links to another dozen.
But beyond his willingness to pick fights and an extraordinary determination to get what he wants, what do we know of the soon-to-be CEO's views?
In what was, in hindsight, an effort to "introduce the world to Andy Jassy," he gave an unusual keynote in December at the AWS re:Invent conference, straying from computing, numbers, and Ellison-bashing to talk about, well, disease and death.
"COVID has been so difficult for so many people," he said about the ongoing pandemic. "We've had so many people pass away. We'd had so many people lose their jobs. So many businesses are struggling. It's just been really difficult."
And then jumped into the highly charged subject of racial inequality: "If you live in the United States, it's also pretty hard to not be struck by the murders of Ahmaud Arbery and Breonna Taylor and George Floyd and realize the sobering thought that we have so far to go in this country in how we treat Black people."
He went on: "I think the reality is for the last several hundred years, the way we have treated black people in this country is disgraceful and is something that has to change."
Beliefs
This was part of a larger effort by America's business elite to recognize that it had to do something about police brutality and the widespread, institutional racism that the United States continues to cling vigorously to but even so, the words were surprisingly blunt. Whether he genuinely felt the depth of feeling he expressed is another question. He went straight on to kicking Oracle in the balls again.
For those hoping that having Jassy as a top CEO will mark some kind of sea-change in how corporate America treats citizens and consider their broader rights, however, you are likely to be left waiting.
In a video that is currently doing the rounds online thanks to the decision to put him in the top job, Jassy approaches the critical topic of AI and facial-recognition in a way that has set off alarm bells. Amazon provides, directly or indirectly, technology to police forces across the US, putting the biz directly in the line of fire over fears of next-generation technology being used to discriminate against minorities.
Asked about the well-established racial bias in such technology and fears that its roll-out to police forces will inevitably lead to more aggressive and lethal confrontations between cops and Black people, Jassy was dismissive.
"We don't have a large number of police departments that are using our facial recognition technology and we have never received any complaints of misuse," he said on camera.
"Let's see if they somehow abuse the technology. They haven't done that. To assume they're going to do it and therefore you shouldn't allow them to have access to the most sophisticated technology out there doesn't feel like the right balance to me."
He then makes it plain that Amazon will put no limits on the sale of its facial-recognition technology beyond US laws that prevent him from doing so.
So that's who we now have as the leader of the Amazon behemoth. He may not have Bezos' profile, founding story, guns, and international half-naked-selfie-hacking scandal status, but he does seem to have a high degree of comfort with the potential for IT to crush civil rights for cash. So, yay for Amazon stakeholders. ®