This article is more than 1 year old
No, you're not imagining the tech drought: Lenovo PC stocks one third of normal amid pandemic demand
'From US to Europe to China to Asia-Pacific, our channel inventory has never been so low'
In a blow to anyone fighting over the scraps in the laptop market, Lenovo says it is running at between one third to a half of normal stock levels because it can't keep up with relentlessly high demand for PCs.
Ever since coronavirus lockdowns forced people to stay indoors and shift the office to the kitchen table, where possible, computers have been in high demand to let folks work as well as play and learn at home. Global sales of these machines surpassed 300 million last year, and could have swelled further if supply had met demand.
Gianfranco Lanci, COO at Lenovo, said that demand is unseasonably high in the first quarter of this year. "I would say we have not seen any declining demand" since the winter quarter, he told analysts on a conference call to discuss Lenovo's latest financial results today.
"I think when I look around the world… from US to Europe to China to Asia-Pacific, I think our channel inventory has never been so low and in some cases during the last quarter we were down to two to three weeks."
Tech distributors tend to hold six weeks of stock, "so we were down to very, very low levels and it's still more of less at that level," said Lanci. He added that with "no limitation on supply," shipments last quarter could have been "even better".
Intel was the cause of PC shortages in recent years, largely because it had problems shifting its fabs to more advanced manufacturing processes, causing delays and supply droughts. HP said in August that a lack of ICs and panels was also slowing PC production lines, and that's still the case across the industry as factories, particularly TSMC, are overbooked.
Lenovo predicted in October that 300 million PCs would be shipped in 2021, which was less optimistic than it seemed. The manufacturer said it thinks shipments will rise five to ten per cent further this year, and continue to grow for a couple more.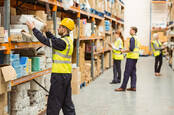 Everything must go! Distributors clear shelves of ALL notebooks in Q2, even ones gathering dust over last 12 months
READ MORE
CEO Yang Yuanqing said users are spending "more time on their PC and tablet so probably that will drive the faster replacement cycles in the future, so we believe demand for PCs and tablet could be stable."
Talking of which, Matt Baker, senior veep for strategy and planning at Dell, last year said there was a chunk of the PCs out there in the market that are already older than four years and ripe for the plucking.
"That's about 700 million of our installed base or the industry's installed base that really needs to be refreshed," he told a financial analyst tech conference in December.
As for Lenovo's latest figures for the third quarter [PDF] of its fiscal 2021, the three months to December 31, group revenue came in $17.25bn, up 22 per cent year-on-year.
The PC and Smart Device division grew 27 per cent to $14.01bn, Intelligent Devices Group was up 10 per cent to $1.52bn, and the Data Centre Group was up two per cent to $1.634bn.
Profit before tax was up 48 per cent to $591m, as Lenovo benefited from a higher-margin PC mix, and squeezed some profit from Motorola and its bit barn biz. ®