ThinkPad T14s AMD Gen 1: Workhorse that does the business – and dares you to push that red button
Thunk: The reassuring sound of a rugged, comfy biz computer
Review Lenovo's ThinkPad range is a bit like a pair of sensible shoes. It might not look flashy but there's something comfortable about its configuration, and the recently released ThinkPad T14s Gen 1 AMD is no different.
The ThinkPad T14 series (there's also one with Intel silicon) replaces the previous T400 series, albeit only in name. The premise remains the same. This is a machine for routine, everyday business computing. It doesn't rock the boat. Nor would you want it to.
Still, despite the absence of flair, you've got to appreciate Lenovo's ability to craft a computer, which remains unparalleled. The T14s AMD Gen 1 might not be the best-looking machine we've ever used, though we really can't fault the construction, which shines in subtle yet important ways.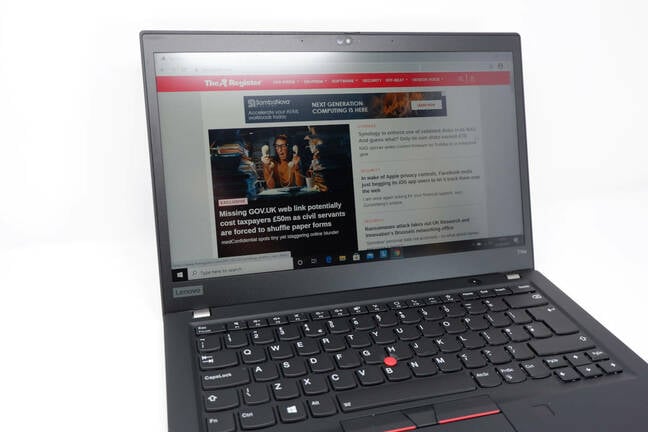 Thoughtful: the keyboard is seated a few millimetres below the trackpad
The keyboard is standard ThinkPad fare – well-spaced, with lots of travel, and a classic red "mouse nub"/trackpoint (officially named a "pointing stick" by Lenovo) in the middle. There's plenty of room between individual keys and rows, with the exception of the function keys, which are densely packed together. In our testing experience, it felt delightfully comfortable to use, even amidst marathon typing sessions.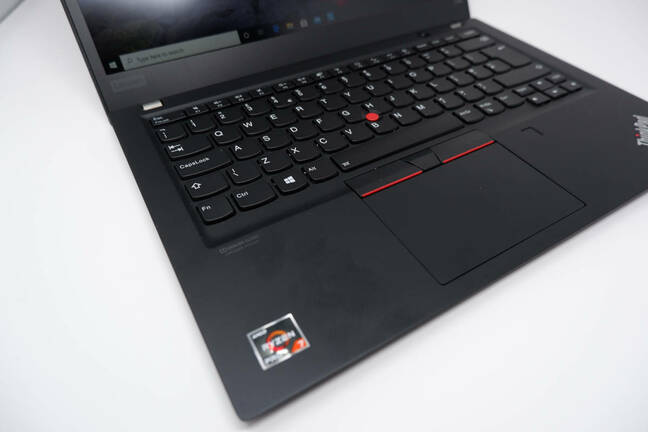 Old faithful: the classic red Trackpoint "pointing stick"
I've always wondered whether the red nub remains for historical, rather than utilitarian reasons. It's part of the ThinkPad brand, certainly, but it's not something you instinctively want to use. Especially considering the T14s AMD comes with a generously sized and responsive trackpad.
Above the trackpad are three physical mouse buttons. Again, I can't help but wonder if these exist purely for aesthetic reasons. It feels a lot more natural to click the trackpad, which depresses with a satisfying "thunk." To the right of the trackpad is a small fingerprint reader, which is about half the size of a postage stamp.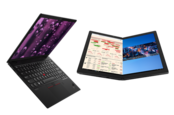 Lenovo sheds lockdown pounds with lightweight ThinkPad, reveals price tag for world's first bendy-screen PC
READ MORE
The ThinkPad T14 isn't an ultrabook, and so it's able to adopt subtle little design tweaks that make day-to-day use feel more comfortable. For example, the keyboard sits a few millimetres below the trackpad, reducing the amount of distance your hands have to travel in order to type. This is one of those things that are easily overlooked, but help create a machine that feels extremely pleasant to use.
Sadly, Lenovo wasn't exactly generous when it came to the ports. There are two USB-A ports, two USB-C ports (with one doubling as a dock adaptor), and a single HDMI-out jack. Ethernet? No. And since we're in AMD territory, forget about Thunderbolt.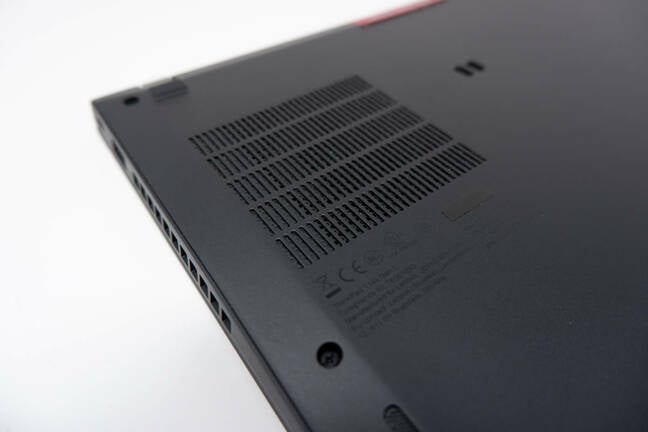 Cool as a cucumber - the rear vent grille
At least it does cooling well. There's a large ventilation grille on the bottom of the device, as well as on the right-hand side of the machine. This is something sometimes sacrificed by laptop manufacturers for aesthetic reasons. Lenovo has no such concerns here, and the ThinkPad runs silent on light loads, and remains quiet even when being taxed.
The display shipped with this unit is a 14-inch, non-touch IPS panel, with a standard 1,920x1,080 resolution. This comes with a 16:9 aspect ratio, which is perhaps a small shame for a productivity-focused device, where a taller 16:10 or 3:2 ratio would have proven more useful.
The screen won't knock your socks off, but it's perfectly functional, delivering solid brightness and viewing angles. This can fold flat to a 180-degree angle, and is held in place by two reassuringly-sturdy hinges.
Powering the device is AMD's Renoir-based Ryzen 7 Pro 4750U processor, built upon TCMS' 7nm process. This comes with eight cores, supporting sixteen threads in total. The base clock is 1.7Ghz, with a max boost speed up to 4.1Ghz. Predictably, this screams through day-to-day tasks, even proving capable of handling some moderately-intensive gaming at the end of the workday.
The model provided to El Reg by Lenovo came with 512GB storage, provided by a NVMe M.2 flash drive, which opens the door to upgrades later down the line. On the RAM front, the machine has 16GB LPDDR4x soldered. Upgradability ends there, sadly.
Fortunately, battery life proved excellent, although didn't quite meet the lofty promised runtime of 19.5 hours. Despite hoarding tabs in Chrome, and running Spotify and Slack in tandem, we still managed to get a full day's worth of usage out of the machine, with the ThinkPad running dry after around 12-hours.
The Lenovo ThinkPad T14s Gen 1 AMD has few surprises up its sleeve, but still manages to impress, delivering solid day-to-day performance and an excellent construction that feels rugged and designed for long-term comfort. Still, it's not without its rivals, and with a base price of £1,259.99 (the model reviewed costs £1,499), there are other machines you might want to consider first.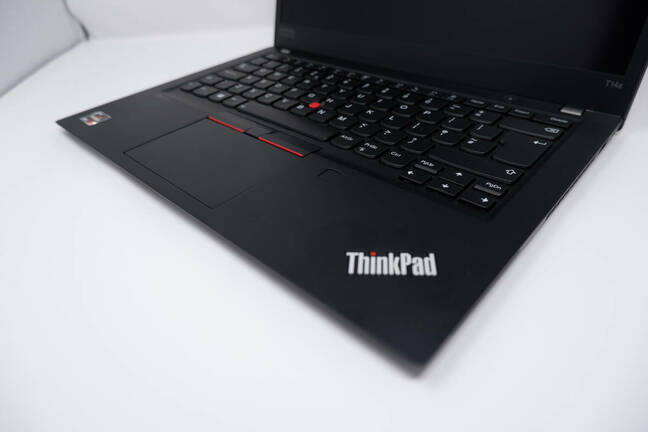 Three mouse buttons - does anyone use these?
Last year's Honor MagicBook Pro is a good shout for those on a budget. While it packs a weaker processor, it undercuts Lenovo on price but provides a bigger screen, more USB-A ports, and a keyboard of similar calibre. Honor just refreshed this machine, moving from AMD to Intel. While we haven't yet tested the new version, the previous AMD-based model remains widely available.
Another machine piquing our interest is the LG Gram 17, which just received a refresh at CES. This is priced fairly competitively with the T14s AMD Gen 1, but includes a larger 17-inch screen with an Excel-friendly aspect ratio of 16:10, as well as a fairly generous supply of ports. ®