This article is more than 1 year old
AI brain drain to Google and pals threatens public sector's ability to moderate machine-learning bias
With top research talent focused on commercial machine-learning goals, where do we go from here?
Boffins from Denmark and the UK have measured the AI brain drain and found that private industry really is soaking up tech talent at the expense of academia and public organizations.
In a paper [PDF] distributed via ArXiv, authors Roman Jurowetzki and Daniel Hain, from Aalborg University Business School, and Juan Mateos-Garcia and Konstantinos Stathoulopoulos, from British charity Nesta, describe how they analyzed over 786,000 AI research studies released between 2000 and 2020 to trace career shifts from academia to industry and less frequent reverse migrations.
"Overall, our results based on a comprehensive analysis of bibliographic data support the idea of a growing flow of talent from academia to industry which may require attention from policymakers," the four researchers conclude.
The reason policymakers might concern themselves with such shifts is that private companies may not prioritize ethical and social concerns arising from artificial intelligence and machine learnings systems.
Prophets or profits?
As an example of the issues associated with AI systems, the paper's authors point to Google's controversial dismissal of AI researcher Timnit Gebru from her position as Ethics Co-Lead at Google Brain, Google's AI research unit, in December, 2020.
Gebru disagreed with Google managers about a conference paper she wrote with colleagues about the environmental and ethical issues associated with large AI-based language models that Google has come to depend upon for its major services.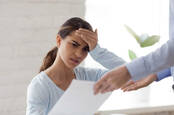 Google AI ethics co-boss locked out of work account while probing controversial ousting of colleague
READ MORE
The web giant's decision to oust Gebru, which prompted widespread criticism in the academic community, "underscores the risk that these labs may discourage employees from pursuing research agendas that are not aligned with their commercial interests, potentially resulting in the development of AI technologies that are unfair, unsafe or unsuitable beyond the use-cases of the companies that build them," the paper's authors argue.
The AI brain drain has been documented by other researchers. In a 2019 paper, for example, University of Rochester business boffins Michael Gofman and Zhao Jin reported that "the brain drain of AI professors to the industry is unprecedented." They have even set up the Brain Drain Index to illustrate their findings.
The authors observe that the flow of researchers tends to favor industry but does reflect some movement in the other direction. They suggest one explanation for this might be that some academic researchers may not care for the private sector environment – and judging by Gebru's experience, there are obvious downsides.
They also note that when all career changes among AI types are considered, most moves remain within academia.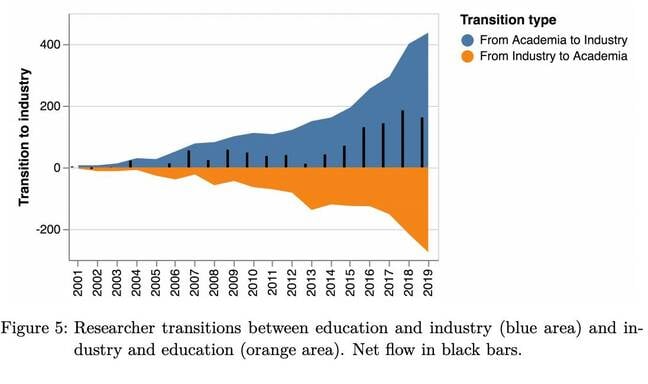 From the paper ... a graph showing the movement of boffins to and from industry and academia. Click to enlarge
The shift from academia to industry is most pronounced, they found, among researchers affiliated with prestigious institutions, like Carnegie Mellon, Stanford, Princeton, and MIT. And the top draw for those making a migration has been Google, particularly after 2015.
Chocolate Factory chomps
"In many cases Google accounts for more than 10 per cent of all researcher transitions into industry from top institutions," the paper says, noting that Facebook has also become a popular destination in the past five years.
The paper touches on some of the differences between private and public sector research. AI scholars working in industry tend to be cited twice as often and to publish less than those working in academia. At the same time, these industry AI researchers show signs of academic stagnation, suggesting their employers may be more interested in implementing established ideas than pushing the envelope with new techniques.
But the four researchers leave exploration of the effects of the AI brain drain aside to focus on the policy implications of AI pursued primarily for commerce, with considerations like ethics, sustainability, and the public good deprioritized.
"A burgeoning public interest sphere conducting this research without having to balance academic integrity with commercial interests is, as the Timnit Gebru case with which we began this paper, a critical requirement for this space, and one that may be threatened by the sustained flow of researchers from academia to industry that we have evidenced in this paper," the authors argue. ®