This article is more than 1 year old
Brit IBM veteran wins unfair dismissal case after 2018's Global Technology Services redundancy bloodbath
Represented himself – but judge denies last-minute attempt to make it an age discrimination claim
A long-serving IBMer has won an unfair dismissal lawsuit after representing himself against a qualified barrister – although his related discrimination claim was struck out by the judge.
Stefan Devis, formerly a client support manager with 20 years of service with Big Blue, worked in the Global Technology Services unit on IBM's Santander account – until higher-ups decided to start cutting staff headcounts in 2017-18.
As somebody within GTS's Technology Support Services unit, Devis was at the forefront of the job cuts, known in IBM-ese as a "resource action." His job was due to be offshored from the UK to Bulgaria, as part of a wider effort to get rid of 125 staff. Voluntary redundancies reduced that to 104.
However, in sacking him, IBM made a fatal blunder. Devis's managers failed to ensure that their redundancy selection criteria were objective – instead relying on scores assigned to each employee in a tickbox exercise. The law says employers must properly consult with at-risk workers before making them redundant.
As Employment Judge Helen Cookson said in her judgment: "I consider that no reasonable employer would have adopted such criteria and then applied them to an employee in the way the criteria were applied to the claimant. The emphasis on the use of objectivity in the scoring process suggest[s] the respondent recognised the risks of using the subjective criteria it had adopted."
Judge Cookson said Devis "was never given an opportunity to discuss the scoring with those who had scored him or make representations to them about the scores," adding: "It is not in dispute between the parties that the appraisal documents were used, it is the reasonableness of using them which is in dispute."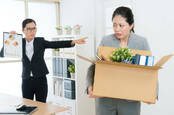 She was praised by the CEO and promoted. After her brother and mom died, she returned from compassionate leave. IBM laid her off
READ MORE
It didn't help IBM's case that the crucial redundancy selection meeting by IBM managers considered 75 people and picked them all for redundancy – taking an average of just 48 seconds per person. Legally, IBM ought to have used its internal employee scoring systems to set a bar for redundancy and then assessed whether each person placed at risk of redundancy was above or below that bar – but blundering bosses went through the motions in a "cursory" way, having already decided the outcome.
Andrew Jones, a service delivery leader within GTS, told Devis in person he was being let go – but refused to say what score the client support manager would have needed to be safe from redundancy.
The judge said: "I find that what score would have been required to 'save' an employee from redundancy was known during the individual consultation process. No reason for not telling the claimant what the cut-off score was offered except that it was not the agreed process."
However, the judge, who was sitting alone instead of with a three-person panel as is normal in Employment Tribunal cases, ruled that had IBM got its ducks in a row, Devis would probably have been made redundant anyway – and reduced his compensation payout by 70 per cent. That remedy itself will be "determined at a future hearing," the judgement explained.
She also threw out Devis's application to add an age discrimination claim to the hearing. He first filed his case in 2018, while later reporting from The Register and elsewhere revealed that more than 280 sacked IBMers were pursuing age discrimination cases in the UK alone.
Similarly, in the US, a court heard that more than 100,000 expensive older staff were fired in favour of cheaper younger staff. ®