This article is more than 1 year old
War on Section 230 begins in earnest as Dem senators look to limit legal immunity for social networks, websites etc
Trio introduce SAFE TECH Act to US Senate
US Senators Mark Warner (D-VA), Mazie Hirono (D-HI), and Amy Klobuchar (D-MN) on Friday introduced draft legislation to limit the legal protections available to social networks, websites, and anything else that provides an "interactive computer service."
The three politicians proposed a bill they're calling the SAFE TECH Act [PDF], which narrows the liability protection afforded to organizations by Section 230 of the US Communications Decency Act. Its full title gives a sense of the wrongs it aims to right: The Safeguarding Against Fraud, Exploitation, Threats, Extremism, and Consumer Harms Act.
Section 230 of the CDA is the legal foundation of the modern internet because it provides a way for orgs to host user-generated content while, more or less, avoiding legal liability for that content. And it allows companies to maintain that qualified immunity even when they moderate user-generated content.
Yet the content moderation decisions made by internet companies, particularly social media platforms, have displeased both Republicans and Democrats in the US, not to mention others abroad. The now departed Trump administration fumed about Section 230 repeatedly but, distracted by its election rejection insurrection, failed to push through acceptable reforms. Now it's the Democrats' turn.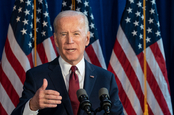 So what can we expect from a Joe Biden White House when it comes to tech? We'll try to answer that right now
READ MORE
"While the law was meant to encourage service providers and users to adopt tools to screen and filter objectionable content, it has instead conferred sweeping immunity on online providers even when they do nothing to address misuse of their products, leaving consumers who suffer harm with little – if any – recourse," said Warner in a press release [PDF].
While the Republicans spent four years complaining on the internet, radio, and television that internet companies were unfairly silencing conservative voices – a claim recently rebutted in an NYU Stern report – the Democrats have expressed concern that maybe allowing internet companies to ignore calls for violence isn't such a good idea after all.
"A platform that hosts organizing efforts for armed militia groups making direct calls for violence faces no legal consequences for its actions, even when reported by users hundreds of times in advance of the tragic events," laments Warner, pointing at the lack of consequences for online services that were used to organize the attempted insurrection at the US Capitol on January 6, 2021.
The bill proposes to clarify where Section 230 immunity does not apply. It seeks to remove platform protection for:
Ads and other paid content, so platforms can't profit from unlawful or harmful services.
Civil rights law and antitrust law violation claims.
Harassment/cyberstalking claims related to protected classes (e.g. sex, race, color, religion, ancestry, national origin, etc).
Wrongful death claims.
Alien Tort Claims Act claims (e.g. allowing survivors of the Rohingya genocide to sue Facebook).
The bill does not necessarily make online services automatically liable in such cases but it would allow a judge to determine whether claims cited in the bill could go forward without being summarily dismissed.
"For years, Section 230 provided a 'Get Out of Jail Free' card to platform companies as their sites are openly and repeatedly used by bad actors to cause damage and injury," said Warner via Twitter. "Section 230 will be brought into the present-day with the SAFE TECH Act creating targeted exceptions."
Eric Goldman, professor of law at Santa Clara University School of Law, has written extensively on Section 230 and has argued that the law works at least as well, if not better, than the alternatives. In an email to The Register, he expressed concern that the bill is a mishmash of policy goals.
"This bill takes what I call the 'omnibus' approach to legislative reform," he said. "Rather than pick one policy reform that reflects careful research about the targeted problem and why the reform would solve it, this bill stitches together a melange of at least a dozen unrelated policy ideas that expose the drafters' lack of clear understanding of how Section 230 actually works."
"My question for the drafters is: what services do they think will still qualify for Section 230 if this reform goes through; how likely is it that those services will do what the members of Congress want; and will those services be able to afford to remain in business? If we don't have clear and convincing answers to those questions, then the bill creates potentially dire consequences for the internet we know and love." ®