This article is more than 1 year old
NASA offers foodies, boffins $500,000 to find ways for astronauts to make their own dinners on the Moon, Mars
Deep Space Food Challenge could also help solve nosh dilemmas here on Earth
NASA has teamed up with the Canadian Space Agency to launch a competition to challenge foodies and engineers to design new food production systems that will feed future astronauts exploring the Moon, Mars, and beyond.
Far away from the lush lands of terra firma where fresh fruit, vegetables, and animals for meat are grown, the men and women on the International Space Station survive on sometimes unpalatable freeze-dried packets typically delivered by cargo spacecraft. Space may be fun and all, but the food there sucks.
Here's a quick video describing the Deep Space Food Challenge:
Space agencies hoping to explore further out into the Solar System realize it'll be difficult to routinely deliver food items across the void, and are looking for new sustainable ways to provide nutrition for astronauts while they're living in a lunar base or traveling to Mars.
The Deep Space Food Challenge is looking for ways to grow, store, and cook food, wherever the spacefarers may be, that will provide enough nutrition to feed a crew of four on, say, a three-year round trip mission. The organizers of the competition also believe that the results could benefit us on Earth too; the new systems will be designed to produce food in harsh environments, and that technology may be applicable to places on our world where the conditions make it difficult for farming.
A panel of experts will judge the food yield produced by the proposed systems, and how much waste is created and the amount of energy they require to operate. The rations don't need to be utterly delicious: NASA and CSA are only asking for something that is "palatable, nutritious, and safe." The inventions should be capable of creating a variety of nibbles shouldn't be too much trouble to prepare and eat.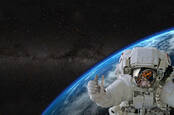 It's official! Space travel increases the brain size of astronauts, even when they're back on Mother Earth
READ MORE
"This Challenge seeks to incentivize teams to develop novel technologies and/or systems for food production that need not meet the full nutritional requirements of future crews, but can contribute significantly to and be integrated into a comprehensive food system," an announcement stated.
Phase one of the competition is now underway. US and international teams can register and enter the NASA contest until May 28, and the deadline for submissions is July 30, with winners announced on September 21. CSA is organizing its own challenge independently of NASA for Canadians.
In the NASA challenge, the top 20 US teams, made up of American citizens or permanent residents, will receive $25,000 each (£18,200) – a total of $500,000 – and be invited to Phase two of the competition, where they will have a chance to build prototypes of their design.
Unfortunately, teams entering from other parts of the world will not be eligible to win any cash prizes nor advance to the final. The top 10 international teams will still be announced, however, which should help land them independent funding.
CSA's challenge will be split into three different parts. Up to ten semi-finalists from phase one will receive CA$30,000 (£17,100) and enter into phase two of the competition. Here, four finalists will win CA$100,000 (£57,000) to advance to the finale. Finally, the winner will be awarded the main prize of CA$380,000 (£216,000).
"Food systems on Earth exist that may benefit space explorers, but their ability to meet the rigorous demands of spaceflight are not yet established. Future crew members need nutritious foods they can enjoy eating and feel closer to home," the organizers said.
"On Earth, food insecurity continues to ravage urban, rural, and harsh environments. Food production is critical to sustaining healthy human life, everywhere – and there is massive need for innovation on this front." ®