Myanmar orders blocks of Twitter and Instagram on top of Facebook ban
Internet traffic dips markedly as protestors take to the streets
Myanmar's military junta has ordered fresh blocks on the internet.
Last Friday mobile carrier Telenor notified customers that "All mobile operators, international gateways and internet service providers in Myanmar received a directive on 5 February 2021 from the Myanmar Ministry of Transport and Communications (MoTC) to, until further notice, block the social media platforms Twitter and Instagram."
The company opposes the bans and has challenged the "the necessity and proportionality" in its response to the Ministry but has complied because the directive "has legal basis in Myanmar's telecommunications law".
The new directive and other less-obvious measures appear to have made internet connectivity hard to find over the weekend, with independent and non-partisan NetBlocks Internet Observatory reporting further connectivity dropouts over the weekend of February 6th and 7th.
A week after the onset of internet disruptions in #Myanmar amid a military coup and detention of civilian leaders, connectivity has returned to 95% of ordinary levels. However, social media remain restricted for many and the situation remains tense 🗓

📰 https://t.co/Jgc20OBk27 pic.twitter.com/me1Glq3Le2

— NetBlocks (@netblocks) February 7, 2021
Cloudflare's internet Radar service also reports big fluctuations in availability of connectivity.
Myanmar residents took to the streets in their thousands over the weekend to protest the military coup, and VPN use in the nation is said to have surged. Cloudflare currently ranks network traffic monitoring service netdata.cloud/ the number one "trending" domain in Myanmar.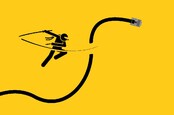 In the old days, coups started by seizing TV and radio stations. Now they crimp the internet at 3am
READ MORE
The military has paid no heed to the protests, instead extending the time it says it will need to run the nation from 12 to 18 months. ®