England's NHS has advertised for two top tech jobs as the service struggles with an ongoing pandemic, a supposed digital transformation, and imminent central government reform.
For a salary of £93,000, two individuals will be charged with leading technology and data policy in the NHS's digital agency, NHSX.
The director of data policy is set to lead a 125-strong team through "substantive reform of the regulatory, policy, and practical use of data in the health and care sectors."
According to the job ad: "The Director is the senior lead for data within the Department, and will lead on the delivery of the forthcoming data strategy, a major publication that will set the regulatory framework for data use."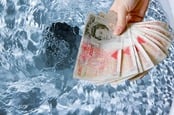 UK Test and Trace chief Dido Harding tries to convince MPs that £14m for canned mobile app was money well spent
READ MORE
The individual should be good at getting abreast of their briefs quickly because an NHS strategy paper [PDF] said last autumn that the Data Strategy for Health and Social Care was due "in the coming months". Which means about now unless it has been delayed.
Meanwhile, the ad for Director of Tech Policy really uncorks the Champagne bottle of jargon, asking, as it does, for an individual to "evidence the effects of digital on care and to influence the system to digitise and to shape the various crucial building blocks of delivery."
Reading between the lines, the document teases the fact that whoever is brave enough to take on either role will be parachuted onto a political minefield while under sustained shelling.
It says the successful applicant should be able "to navigate political sensitivities and complexity".
What might they be? The imminent health white paper, which has been widely leaked, is said to contain plans to reverse some of the reforms that took place during the Cameron government and give central government more control of the service.
At the same time, the new hires will be working for NHSX, an organisation created in 2019 to lead digital transformation, which is struggling to find a role as it competes with NHS England & NHS Improvement and NHS Digital, both of which have fingers in IT projects.
"National governance arrangements for digital transformation remain confused, despite attempts to clarify them," spending watchdog the National Audit Office said last year.
Doctors, nurses, pharmacists, radiologists, and an army of other dedicated medical professionals will be on the receiving end of reforms and digital transformation while the once-in-a-generation demands on the service caused by the pandemic are still ongoing. They might be forgiven for wanting to pause to take a breath. ®