Bitcoin surges, exchanges flooded after Tesla says it bought $1.5bn in BTC, hopes to accept it as payment soon
Musk continues public love affair with cryptocurrencies
Tesla has plowed $1.5bn (£1.1bn) into buying up Bitcoin, and expects to start accepting the cryptocurrency as a form of payment in the future, it announced on Monday.
In an SEC filing detailing its 2020 financial results, the electric car maker revealed it amassed a pile of reserve cryptocurrency last month. The disclosure caused Bitcoin to shoot past $44,000 a coin, and the larger crypto-exchanges were reportedly jammed with trading.
"In January 2021, we updated our investment policy to provide us with more flexibility to further diversify and maximize returns on our cash that is not required to maintain adequate operating liquidity," Tesla stated in its paperwork to America's financial watchdog.
"As part of the policy, we may invest a portion of such cash in certain specified alternative reserve assets. Thereafter, we invested an aggregate $1.50 billion in bitcoin under this policy. Moreover, we expect to begin accepting bitcoin as a form of payment for our products in the near future, subject to applicable laws and initially on a limited basis, which we may or may not liquidate upon receipt."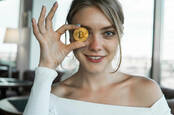 Where is it now? Bitcoin-flush hard drive thrown out in 2013
READ MORE
Bitcoin was hovering around $30,000 to $40,000 a coin in January.
Tesla CEO Elon Musk is a big fan of cryptocurrencies, promoting on his Twitter profile Bitcoin and, more recently, Dogecoin. He said the latter could be the world's future lead digital currency, calling it the people's coin.
Suffice to say, whenever the SpaceX supremo tweets about the coins – see below for an example – their price-per-US dollar spikes.
Ð is for Ðogecoin! Instructional video.https://t.co/UEEocOfcTb

— Elon Musk (@elonmusk) February 8, 2021
Musk's tweets have landed him in hot water with the SEC, mind you. In 2018, he was accused of fraud after he claimed he wanted to take Tesla private with shares starting at $420 a pop with funding secured. That brouhaha was settled out of court, Musk resigned from his role as chairman of the automaker, and Tesla and Musk agreed to pay $40m in penalties. ®