This article is more than 1 year old
Xiaomi a Snapdragon 888 flagship for €749: Yep, the Mi 11 is rolling out to world outside China
Hits UK shops in March
Xiaomi has launched its first flagship blower of 2021 for the global market: the Xiaomi Mi 11, competing directly with the Galaxy S21, which has a slower processor and smaller screen.
At €749 (Europe pricing, UK pricing is not yet available) and with the latest processor, the Chinese firm will be hoping punters pick it over the slightly pricier Samsung, which at £769.99 has the benefits of a top-notch camera and regular Android updates.
We'll refrain from making a hackneyed "cranking things up to 11" pun, however, on paper, the Xiaomi Mi 11 appears to be a formidable contender, albeit with a few glaring areas of concern.
At its heart is the Snapdragon 888 chip. Built on Samsung's 5LPE (5-Nanometer Low-Power Early) process, it packs eight cores, arranged in a three-stage design.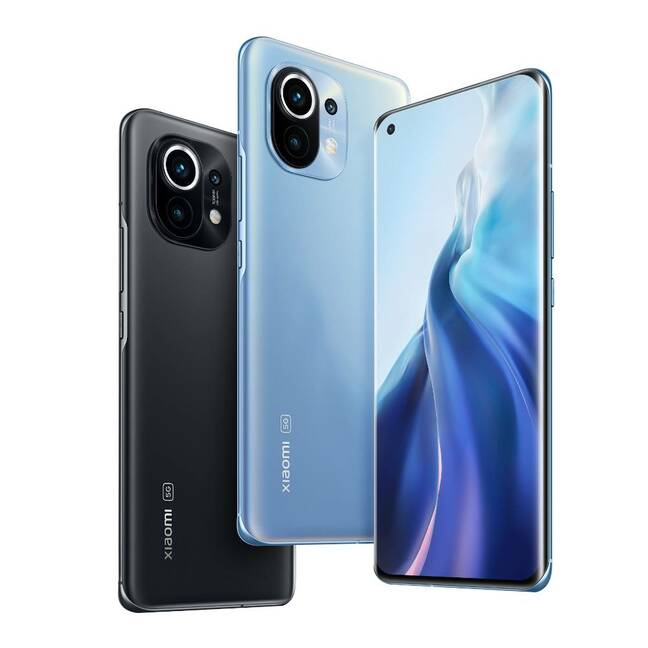 Click to enlarge
Top of the pack is a single Cortex-X1 "prime" core, clocked at 2.84Ghz. Designed for computational heavy-lifting, this has double the number of SIMD units found on the Cortex-A78, with L1 and L2 caches boosted by the same amount. This is accompanied by three high-performance Cortex-A78 cores, as well as four low-power Cortex-A55 cores.
Still, a chip is more than the sum of its cores, and also present is Qualcomm's Adreno 660 GPU, which is purportedly 20 per cent more efficient than its predecessor, while offering 35 per cent improved rendering rates. There are also three ISPs (image-signal processors), allowing it to capture imagery from three cameras in parallel. In practice, this will mean switching between camera sensors feels that bit more fluid.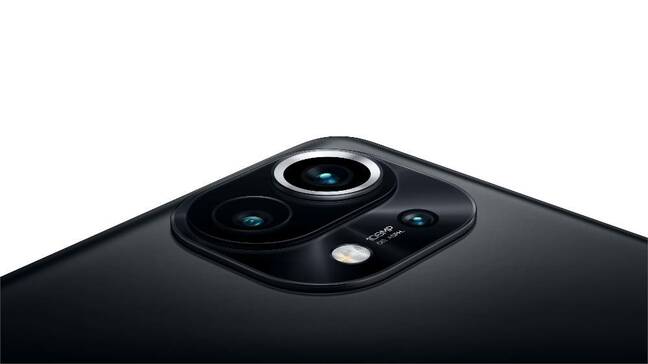 Speaking of cameras, the Xiaomi Mi 11 has three, not counting the 20MP front-facing shooter. The primary sensor is a 108MP affair, which doesn't really inspire enthusiasm. Large megapixel counts sound great on paper, and they're an excellent marketing tool for phone brands. In practice, they typically produce middling results, especially in low-light conditions.
As a general rule, the higher the megapixels, the smaller the physical pixels on the sensor are, which means they capture less light. To get around that, phone makers rely on something called "pixel binning," where smaller pixels are grouped together into a single logical unit. The Mi 11 does this at a 4:1 ratio, which in practice will produce 27MP shots.
For reference, the pixels on the Xiaomi 11 measure just 0.8μm, which is almost 40 per cent smaller than the 1.4μm pixels found on the iPhone 12's primary camera.
Still, Xiaomi might have scored points when it comes to the other sensors, which are of a sufficiently decent quality to be useful. The Mi 11 has an 13MP ultra-wide lens, as well as a 5MP telephoto macro lens capable of taking zoomed and close-range shots. That's a major improvement on its predecessor, the Mi 10, which came with auxiliary cameras as low as 2MP. Unsurprisingly, these produced grainy, uninspiring shots.
Party at the front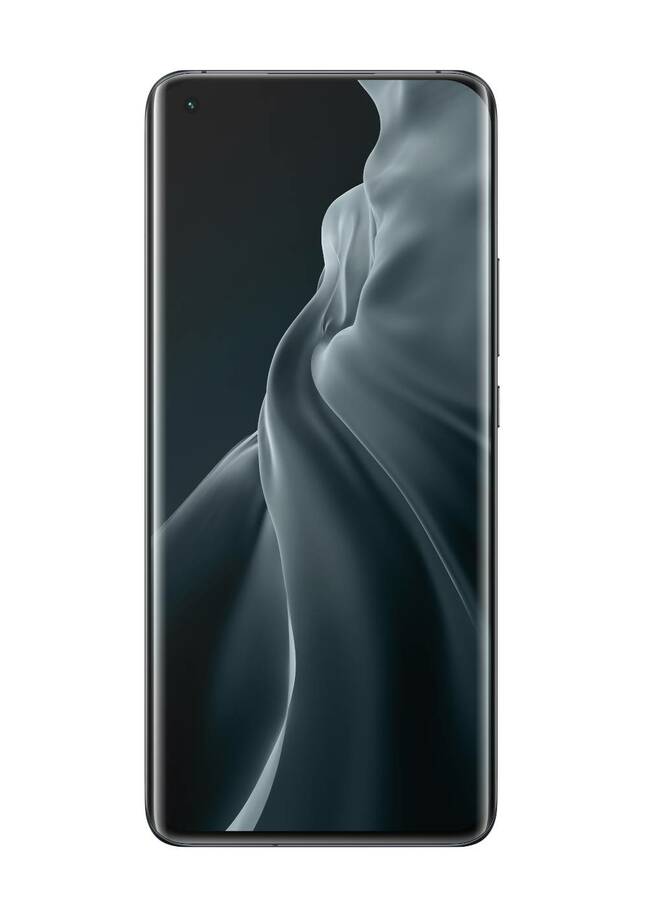 Click to enlarge
As for the display, it measures 6.81 inches from corner to corner, and curves over all four borders – albeit not in the same extreme and impractical way depicted in its latest concept phone.
In terms of screen tech, Xiaomi opted for an AMOLED panel, which uses a WQHD+ (1440 x 3200) resolution, and can run at speeds of 120Hz. This is protected with Corning's Gorilla Glass Victus aluminosilicate, which offers decent drop and scratch protection compared with previous versions.

Ports: Trust us, you need 'em
As far as RAM goes, there's just one option available: 8GB of LPDDR5 memory. In this reviewer's experience, that's more than enough. Beyond that point, we start to enter the murky swamp of "gimmick land," with negligible benefits to end users. For storage, you've got two options: 128GB or 256GB of UFS 3.1.
The battery used is rated to 4,600mAh. That's fairly standard, with most premium Android devices sitting somewhere between 4,000mAh and 5,000mAh. On the charging front, the Mi 11 supports 55W wired USB-C charging, 50W wireless charging, and 10W reverse charging.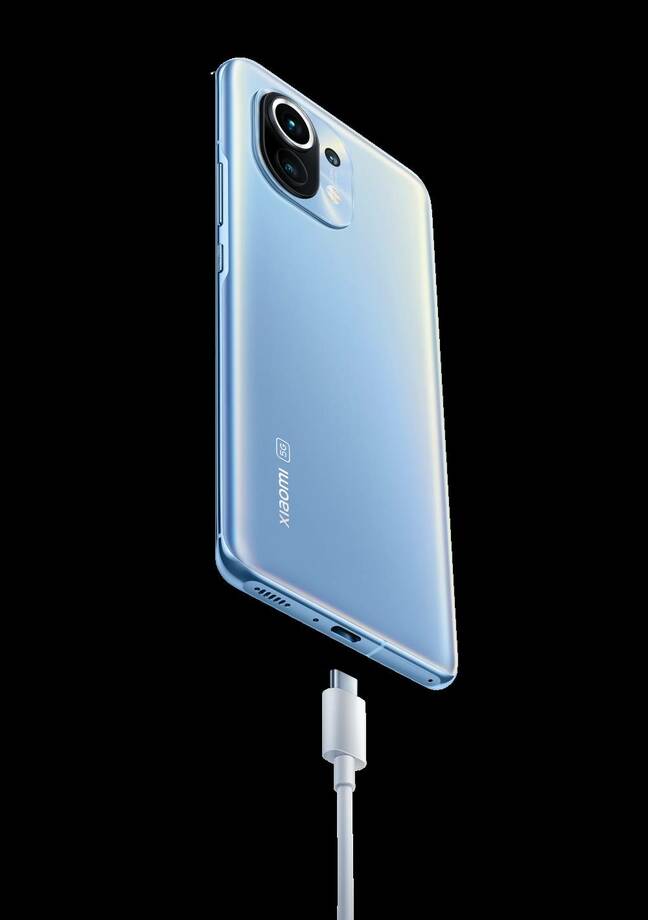 The Mi 11 supports 55W wired USB-C charging
While the Snapdragon 888 silicon should offer some major power consumption benefits, Xiaomi seemed eager to draw attention to its latest MIUI update, which will make its way to the Mi 11 shortly after its release. MIUI 12.5 doesn't make any major leaps forward in functionality, with the attention firmly affixed on invisible background tweaks designed to improve CPU and battery performance. This, it said, reduces CPU usage by up to 22 per cent, with power consumption reduced by 15 per cent.
We don't have any battery benchmarks to lean on, however we'd be surprised if the Mi 11 outperforms the competition in longevity, especially given the power-hungry nature of 5G, as well as the massive 6.81-inch screen its sporting.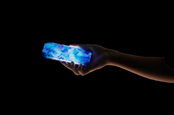 No ports, no borders, no hope: Xiaomi's cool but impractical all-screen concept phone
READ MORE
Further power consumption benefits could be obtained with the use of Android 11, which is sadly lacking on this device. Xiaomi instead opted to use the older – but still supported – Android 10. We'd hope to see an OTA upgrade in the months following its release.
Xiaomi said the Mi 11 will be out in the UK in March, with pricing to be confirmed, though Europe will pay €749 for a 128GB unit. The previous Mi 10 launched with a price of £699 for 128GB, and £799 for the 256GB variant, so if it follows the Euro price drop, you'd be looking at around £660.
The phone is unlikely to ever be directly sold in the US.
Other competition for the phone - besides Samsung's Galaxy S21 - will come in the form of last year's solid mid-rangers, which offer solid specs and are frequently being discounted. Both the Google Pixel 5 and the OnePlus 8T immediately spring to mind. ®