This article is more than 1 year old
A Microsoft bork at the heart of The Oracle? Whatever next?
Going shopping? Hope your pockets are deep enough
Bork!Bork!Bork! The enmity between Microsoft and Oracle is the stuff of legend, but it appears The Beast of Redmond may have had the last laugh, at least over its namesake.
You may be picturing databases-at-dawn, but today's bork centres on Windows badness within The Oracle... er, shopping centre in Reading, UK.
Spotted by Register reader Simon while on a stroll, a four-letter word has been obscured by Windows 10's cry for attention in the window of clothing retailer Superdry. Not, we hasten to add, the four-letter word usually uttered by users of the OS as it decides that three minutes before an important meeting is the perfect time for an update.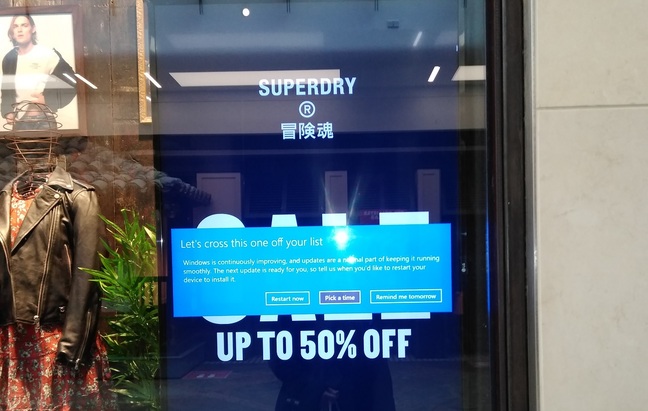 Click to enlarge
Unfortunately, the connection to Big Red is in name alone. Although we can imagine what a shopping mall dedicated to the wares of Larry and co might entail: if you can't decipher the prices, you can't afford to shop there. In fact, you probably can't afford to anyway. All the shops would be big, red, and looking a bit shabby nowadays compared to other, cloudier outlets. You can pick up coffee from the concession stands, but watch out for the small print on your cup of Java. And finally, there is parking for yachts outside because of course there is.
While the signage is on display in Superdry, a chain that has seen quite a startling reversal in its fortunes in recent times, the idea of a Microsoft bork at the heart of The Oracle is enticing.
Even if "up to 50% off" are words not normally associated with Big Red. ®