This article is more than 1 year old
Minister tells the House of Lords it'll be another 12 weeks before UK's deleted criminal records can be restored
99.5% were from before 2011 – so that's OK
Data lost because of a scripting error introduced to the UK's Police National Computer (PNC) in November will take another 12 weeks to recover, according to a statement in Parliament.
Problems with the code did not come to light until 10 January, when the Home Office became aware of the loss – 413,000 deleted records of evidence – and stopped the automated "weeding" process intended to remove records only for legal reasons.
The loss of police records from the PNC – a Fujitsu BS2000/OSD SE700-30 mainframe based at a data centre in Hendon, London – attracted public attention last month and led to a testy exchange in Parliament between Boris Johnson and opposition leader Sir Keir Starmer, in which the Prime Minister admitted he did not know how many active police investigations the data loss affected.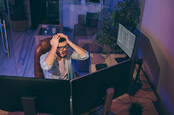 Dratted 'housekeeping', eh? 150k+ records deleted off UK's Police National Computer database
READ MORE
In a written statement to the House of Lords yesterday, Kit Malthouse, Minister of State for Crime and Policing, said the technical investigation had been completed, revealing that a total of 209,550 offence records associated with 112,697 persons' records had been wrongly deleted.
"Of these 15,089 individuals have had their data deleted in totality," he said.
An external review led by Lord Hogan-Howe, former commissioner for the London Metropolitan Police, would ensure the "necessary lessons are learned to avoid similar incidents in the future," Malthouse claimed. It is expected to report in mid-March.
He said technicians were confident the lost data could be restored and that the process would take 12 more weeks – at least five months after the faulty scripts were introduced. Tech teams would try to do it sooner but it was "vital that the data is restored safely to protect the integrity of the data," Malthouse said.
In its analysis, the Home Office found only 195 full fingerprint records were deleted, all of which were more than 10 years old. No records of convictions had been deleted and 99.5 per cent of the deleted files were created prior to 2011, Malthouse added.
Although 26,000 records had been deleted from a DNA database, the Home Office had restored its backups to a "temporary, secure location." The department was making the data accessible to forces and national agencies "this week" and would set up a business process to enable matching in support of ongoing investigations, he said. ®