As Huawei's semiconductor purchases slip, its founder tries a new tactic: Flattery
Ren Zhengfei wants to talk to the Biden administration
Semiconductor purchases are a strong indicator of how the wider hardware industry is faring. An analysis of last year's numbers from Gartner paints a rosy picture with mobile and computer vendors increasingly hungry for chips on the back of pandemic-driven device demand. There was one exception, however: Huawei.
Apple and Samsung increased their semiconductor spend by 24 per cent and 20.4 per cent respectively, reaching $53.6bn and $36.4b off the back of healthy tablet and PC sales. In comparison, Huawei's consumption virtually fell off a cliff, plummeting by 23.5 per cent.
Per Gartner's figures, Huawei spent almost $6bn less in 2020 than it did in 2019, dropping from $25bn to $19bn. It remains in the top-three ranking of semiconductor customers, but only barely. There's just a Rizla's worth of difference between its figures and Lenovo's, which spent $18.5bn on semiconductors last year.
No prizes for guessing why. In May 2019, former president Donald Trump slapped Huawei on a US Treasury Department entity list and renewed the ban last May. American companies, and those trading in technologies that have even partial US origins, found themselves unable to do business with the Huawei.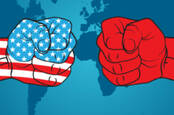 Biden administration pauses ban on Chinese tech companies suspected of military entanglements
READ MORE
These sanctions have been effective. On the telecoms side, Huawei was excised from the UK's 5G network over government concerns about its long-term ability to obtain crucial semiconductor components. On the mobile front, 2020 saw Huawei's mobile shipments decline quarter-on-quarter. Supply chain issues savagely constrained its production throughput, while its inability to license Google Mobile Services made its devices uncompetitive outside of China.
Another bitter blow came in November, when it sold its Honor business unit to a consortium of dealers and government entities. While Honor was never a premium brand, it did operate in the high-volume/low-margin space, churning out budget and mid-range devices. This deal has since been completed, and will affect Huawei's quarterly shipment and sales volumes going forward.
A change in occupancy at 1600 Pennsylvania Ave is unlikely to better its fortunes. Speaking to Senate Republicans in her confirmation hearing, Gina Raimondo, Biden's nominee for Commerce Secretary, said she saw no reason to lift the restrictions on Huawei's supply chain.
"I understand that parties are placed on the Entity List and the Military End User List generally because they pose a risk to US national security or foreign policy interests," Raimondo said. "I currently have no reason to believe that entities on those lists should not be there. If confirmed, I look forward to a briefing on these entities and others of concern."
Huawei regarded a potential Biden administration as, at best, an unknown quantity. At worst, the US government's approach to Huawei would remain the same, with one former company director describing a "bipartisan dislike" of China. Still, there is seemingly some hope within the highest echelons of the firm.
In a rare outing, Huawei founder Ren Zhengfei told media in China - the transcript was sent to The Reg - that he would welcome dialogue with the US president, where he would talk about China and the US's "common development".
"Both the US and China need to develop their economies, as this is good for our society and financial balance," he said. "Everyone needs this. As humanity keeps making progress, no company can develop a globalised industry alone. It requires concerted efforts around the world."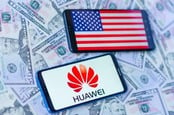 Former NCSC chief says US sanctions made Britain strip Huawei from mobe networks
READ MORE
At multiple points throughout the interview, Ren reiterated an offer to transfer key technologies – from source code to chip design – to US rivals, should it help alleviate the concerns of the current administration.
"Some US politicians have concerns over the potential impact 5G may have on a global scale. As I once pledged, we would transfer all of our 5G technologies, not just licensing production, to others. As long as the US asks for it, we would transfer everything from the source programs and source code to all the hardware design secrets and know-how, and even the chip design.
"I meant what I said, but no US company has come forward. I hope you can help us relay this message to US companies. If they want to talk, we'd be happy to talk."
Ren's charm offensive didn't end with describing a hypothetical tête-à-tête with the commander-in-chief, or offering to hand over the crown jewels to a foreign competitor. He also heaped praise on Apple, describing it as "really a great company" and "the best when it comes to mobile services". Further love bombs were tossed in the direction of the iPhone 12, which he described as "the best in the world" when it comes to 5G due to its ability to achieve download speeds of 1.82Gbps.
The long-term intent of the Biden administration to Huawei remains uncertain. We are barely three weeks into his presidency, and there are more immediately pressing priorities: coronavirus relief, economic stimulus, and cabinet confirmations, not to mention the ongoing Senate impeachment trial of Trump. The situation will become clearer in the coming months as the current administration determines its foreign policy position with respect to China.
And while Huawei is eager to strike a defiant tone, with Ren highlighting new opportunities in industrial 5G and IoT during the interview, as well as a push to services, the numbers don't lie. Sanctions hurt. ®