This article is more than 1 year old
India lifts 550-day Kashmir internet ban, tries to impose new Twitter ban
Twitter flaps about between the law and the right to free speech
4G and wired internet services have been restored to Jammu and Kashmir, the Muslim-majority Indian State that it stripped of semi-autonomous status in 2019.
India and Pakistan dispute ownership of the region and a decades-long insurgency has fought for either independence or integration with Pakistan. India says insurgents are backed by Pakistan and have committed acts of terror. Locals have also protested government policy, sometimes without secessionist aims.
Bans on internet services have long been one of India's responses in the region. In August 2019 access was cut off for months when India revoked Kashmir's special status. Little information flowed in or out of the territory, a tactic held to be aimed at suppressing news and making it harder for locals to organise protests.
Internet restrictions were sometimes eased, but only 2G wireless was allowed and when it was available that standard's 384kbps top speed was hardly going to fuel a YouTube revolution.
But last Friday the Home Department of the Government of Jammu and Kashmir issued a new order [PDF] revoking past bans and restoring both 4G and landline services. Pre-paid wireless broadband remained subject to a requirement to provide identification and register for a service.
"No citizen of a democracy should have to suffer through what the people of Jammu & Kashmir experienced," India's Internet Freedom Foundation said as the ban was lifted and added the hashtag #keepiton.
But the Foundation was less optimistic three days later when India asked Twitter to ban over 1,000 accounts.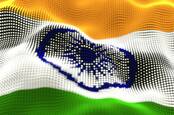 India plans national digital currency plus a ban on 'private' crypto-cash
READ MORE
The ban orders were issued amid large-scale protests by farmers unhappy with new laws that liberalise wholesale trade in agricultural goods. Indian authorities allege that the accounts they want banned are backed by Pakistan, or by Sikh separatists, and do not therefore represent genuine voices of protest about the farming laws.
Twitter CEO Jack Dorsey fanned the flames by liking Tweets written by foreign celebrities that support of the farmers' protests. Twitter itself has blocked some of the accounts it was told to hide, has left others untouched, and reversed blocks on others. The company has said it will apply its own rules and consider India's laws, plus the right to free speech, as the situation emerges.
The matter is big news in India, with a common reaction being that the government is more worried about Twitter than its own farmers. The cartoon below expresses that sentiment with a depiction of prime minister Narendra Modi.
Today Hashtag #IndiaSupportsChakkaJaam #FarmersProtest pic.twitter.com/fwDpC3H1M7

— indi (@indijaswal) February 6, 2021
The Internet Freedom Foundation has criticised the bans as having been imposed after an "excessively opaque" process and said they "reek of government censorship."
Let's go back to Jammu and Kashmir for one more insight into India's online culture, specifically this Facebook post from the J&K Police asking locals to sign up as cybercrime-fighting volunteers.
India operates a scheme that encourages citizens to do this sort of thing, either to flag and report unlawful online content, promote awareness of cyber crime among vulnerable populations, or provide technical services such as network forensics and malware analysis. J&K Police hopes locals help it out online and made its request two days before the regional internet ban was lifted. ®