Linode ponders adding Windows servers to its fluffy clouds of Linux-only boxen
Customers are asking and so spreadsheets are being compiled
Exclusive Cloud contender Linode is having a serious think about offering Windows servers, a decision that would change its long-held stance of only renting Linux systems.
"We are looking at supporting Microsoft shortly," Blair Lyon, the company's veep for cloud experience, told The Register today. "Some clients, especially in the Asia-Pacific, have asked for it. Some of the clients are talking about longer engagements that would justify the energy to support that for them."
Linode prides itself on offering a cloud that does the basics well and attracts developers and smaller businesses who feel that hyperscalers' long menus represent unwanted complexity.
"Users realise they don't need a hyperscale cloud for an ordering app that runs in three restaurants," Lyon said.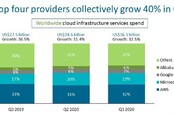 Cloud revenue equation: One AWS equals Azure + Google + Alibaba
CLOUDY CASH
Linode's pitch to big business is as an uncomplicated resource in a multi-cloud strategy, and as a company that won't and doesn't need to stick its oar into the architectural debates that arise in organisations that find themselves tapping into combinations of AWS, Azure, and other major clouds. However you choose to configure those platforms and wire up their complex services and components, Linode is Linode.
While the biz values simplicity, it also tried to match hyperscalers' offerings and this week did so by launching "a few dozen" GPU-enabled servers in its Singapore region.
The instances are powered by Nvidia's Quadro RTX 6000 and start at US$1,000 for a VM offering 32GB of RAM, eight CPU cores, a 640GB SSD, one GPU and 16TB of data transfer. The company's Singapore outpost is home to around ten per cent of its million-plus customers. ®