This article is more than 1 year old
Micro Focus reports 10% revenue slide, multibillion-dollar impairment charges, but investors give the thumbs-up
Share price rises after no-surprises 2020 prelims announced, CEO says 3-year turnaround doing OK
Investors hate surprises. There were, however, no hidden nasties in Micro Focus's preliminary financial results for fiscal 2020 outlined today as the collection of fragmented legacy software assets crossed off year one of its 36-month turnaround strategy.
Group revenue fell 10 per cent year-on-year for the 12 months ended 31 October to $3bn with licence, maintenance, software-as-a-service, and consulting revenues dropping across much of the business.
By product group, turnover from Application Modernisation & Connectivity fell 7.5 per cent to $470.3m. Micro Focus said it saw more customers specifying modernisation projects but with the outbreak of COVID-19 many had deferred them.
CEO Stephen Murdoch said of the unit: "We are increasingly confident that demand for mainframe application modernisation will increase and will contribute to the ongoing strength and stability of this portfolio."
In Application Delivery Management, sales fell almost 13 per cent to $631m, which the company admitted was below expectations. Micro Focus said it took actions in the year to "improve sales execution", largely around product positioning, maintenance renewals, and SaaS products.
The largest division, IT Operations Management, recorded a 15.9 per cent decline in revenues to $853m, caused by double-digit dives in licensing, maintenance, SaaS, and consulting.
Revenues in the Security business unit were down 4.5 per cent in total to $646.1m with one of the bright spots across the whole company coming from a 1 per cent rise in maintenance to $416.8m.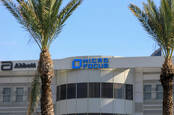 Micro Focus chairman Kevin Loosemore cuts himself loose as merger with HPE Software continues to haunt biz
READ MORE
In the Information Management & Governance corner of Micro Focus, revenue declined 4.3 per cent to $401.2m. Maintenance was the only segment in this division to grow, up 1.5 per cent to $184.2m as licence, SaaS, and consulting all contracted.
The group generated an operating loss for fiscal '20 of $2.661bn compared to a profit of $221.7m in the prior financial year. This was driven by an impairment charge of $2.799bn, partially offset by a reduction in other exceptional items and cost control programmes. This was a non-cash charge.
Murdoch said: "This impairment charge reflects of our trading performance and the macro environment when compared to the original projections produced at the time of the HPE Software acquisition, compounded by the impact of COVID-19."
The turnaround, outlined at the start of last calendar year, is concerned with smoothing the company's routes to market, investing money into product development, hiring staff, revamping training programmes, modernising its own IT infrastructure, converting more business to subscription sales, and getting deeper into Big Data and Security.
The CEO added today: "We made encouraging progress during the year in re-engineering our Go-To-Market approach, simplifying core operations and sharpening our focus on delivering product innovation in support of our customers' digital transformation programmes. This contributed to the improvement in the second half of the fiscal period despite the broader macro context, when we were able to deliver a moderation in the rate of revenue decline when compared to the first half of the year. Considering the year as a whole, the performance varied across the Product Portfolios."
By the close of the three-year plan, Micro Focus wants to have stabilised revenue, be generating $700m in cashflow annually, and have pushed earnings before income tax, depreciation and amortisation in the mid-40 per cent region.
In 2020, the company fell short of those targets for top and bottom-line growth, and cashflow was $511.2m. So there's some way to go yet. Investors must have liked what they saw, though, as Micro Focus's share price was up more than 9 per cent at the time of writing.
This is still way down on the high achieved towards the end of 2017 after it had bought HPE's Software division for $8.8bn and began experiencing the integration and digestive challenges that have since dogged the business. ®