This article is more than 1 year old
US govt drops challenge to California's net neutrality law, signals shift to once again safeguard connections
New FCC boss Rosenworcel makes it plain she will bring back protections
The US Department of Justice has dropped its lawsuit against California's net neutrality law.
The decision to scrap the legal challenge, brought about during the previous Republican regime, was not unexpected. However, the fact it has come so early on in the Biden administration indicates that there will be an aggressive push to reinstall net neutrality protections.
After the Federal Communications Commission (FCC) threw out its previous rules in December 2017 on how the provision of internet access is viewed legally, a number of US states started developing their own replacements. California's approach was quickly seen as a de facto national law given the Golden State's unique position as home to many of the world's largest tech companies.
The law prohibits ISPs from blocking or slowing online content, and makes it illegal for these broadband providers to favor certain websites – or apps, or services – and from taking money to prioritize a specific company's content. It also bans "zero rating" – one area that has been in a legal gray area when it comes to net neutrality – which means that internet providers are not allowed to exempt certain services from data caps, something that typically applies to selected streamed music and video on mobile devices.
In response, anti-net-neutrality, and normally very pro-states-rights, Republican forces in charge in Washington DC at the time challenged Cali's law, arguing that internet provision is a federal issue since it crosses state lines. Then-Attorney General Jeff Sessions said California's law was unconstitutional as it attempted to regulate interstate commerce, and called it "an extreme and illegal state law attempting to frustrate federal policy."
Pleased
Then-head of the FCC, Ajit Pai, also piled in, saying: "I'm pleased the Department of Justice has filed this suit. The Internet is inherently an interstate information service. As such, only the federal government can set policy in this area."
In response to today's news that the lawsuit had been dropped, new FCC chair Jessica Rosenworcel purposefully mirrored the words of her predecessor: "I am pleased that the Department of Justice has withdrawn this lawsuit.
"When the FCC, over my objection, rolled back its net neutrality policies, states like California sought to fill the void with their own laws. By taking this step, Washington is listening to the American people, who overwhelmingly support an open internet, and is charting a course to once again make net neutrality the law of the land."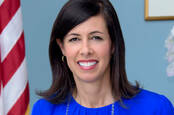 President Biden selects Jessica Rosenworcel to head up FCC as acting chairwoman
READ MORE
What that means is Rosenworcel intends, yet again, to reverse the FCC's current position – something that has become an increasingly ludicrous back-and-forth between the two political parties who now view something as universal as internet access as a partisan issue.
It's not clear whether she intends to simply return the FCC – and America – back to the previous FCC rules created in 2015, before they were overturned in 2017, or to attempt to fix some of the significant flaws inherent in the fact that the 2015 rules rely on the 1934 Telecommunications Act – created long before the internet even existed.
The current 2017 rules are also problematic as they rest on a single paragraph in the 1996 Telecommunications Act. It is with some irony then that Rosenworcel was celebrating the 1996 law today on the occasion of its 25th anniversary.
Happy Birthday?
"Without the Telecom Act of 1996, today's information and communications landscape would look entirely different," Rosenworcel said.
"Coming at the dawn of the Internet age, the Act accelerated the transition from the analog era to the digital age while also reaffirming the promise at the heart of FCC's founding statute: that advanced communications should be available to all Americans." There was even a video.
What is really needed is a new Telecommunication Act for the modern internet era that helps account for the complexities of today's networks and platforms, but with Congress so fundamentally split and dysfunctional, any possibility of that is still a far-off dream and so short-term goals will win again.
Rosenworcel is a much more fastidious follower of correct policy processes than her predecessor Pai so we can expect to see many more months of debate and public comment as the country is returned back to the previous position.
It is possible, though very far from certain, that these new rules – the fifth set in 10 years – will hold, especially give the high level of public support for some kind of net neutrality rules. As things stand, however, that will largely depend on who is elected in 2024. ®