Snapdragon X65: Qualcomm says its next-gen 5G modem handles up to 10Gbps downloads, knows if you're holding it wrong
3GPP standards built in at core
---
The headline feature on Qualcomm's new 5G modem, the Snapdragon X65, is speed, boasting a theoretical max download rate of 10Gbps, eclipsing its predecessor, the Snapdragon X60, by a third.
As Qualcomm is eager to point out, this is a world-first, thrashing competing chipsets from the likes of MediaTek and Huawei. For contrast, MediaTek's M80 chipset has a max download throughput of 7.7Gbps, while Huawei's Balong 5000 modem has a top speed of 6.5Gbps. You will need a supporting cellular network and coverage, and services that handle that much bandwidth, to get anywhere near any of these speeds, mind you.
The performance boost comes from a tighter integration with the modem's auxiliary components, said Qualcomm. While the modem does all the computational heavy lifting required for a 5G connection, it relies on an RF system (which handles lower-level tasks, like tuning into the correct band) as well as an antenna to pick up 5G signals. In the Snapdragon X65, these work more like a single cohesive unit within the smartphone or similar device.
At the same time, Qualcomm has added features that'll improve performance in day-to-day use, particularly on the handset front. For example, the antenna-tuning system is now better able to identify the positioning of the user's hand, with the mobile chipmaker claiming a 30 per cent improvement in accuracy. This, Qualcomm said, allows it to adjust more effectively, resulting in better connections and lower battery drain.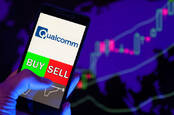 Qualcomm reports profits up 165%, strong revenues... and its stock price dives. What's a chip biz to do?
READ MORE
As Apple learned with the iPhone 4 how you hold a phone (or, more accurately, how a cellular antenna is located within the device itself) can have a dramatic impact on its ability to connect to a cellular network. Remember Antennagate?
Arguably more significant is the Snapdragon X65's adoption of the latest 5G 3GPP Release 16 standards, which govern how 5G radio equipment functions on lower level. It's also, as noted by IEEE Spectrum's Michael Koziol, the first revision to address functionality beyond the fundamentals of how a cellular service should work.
Those hoping to use 5G in private networks are a net beneficiary of the new standard, with support for unlicensed spectrum included. In practice, this means spectrum that isn't allocated by a government body, like Britain's Ofcom or the US FCC. The only factor determining whether you can use unlicensed spectrum is whether someone got there first.
Private 5G is an increasingly attractive alternative to traditional Wi-Fi networks, particularly in large environments with multiple moving components. The main barrier to adoption is spectrum access. This solves that, with 3GPP revision 16 supporting the global 5GHz unlicensed band, as well as open parts of the 6GHz band available in the US.
3GPP Revision 16 also addresses power consumption in 5G, which is notoriously more hungry than contemporary LTE standards. The spec defines a new wakeup signal (WUS), which tells a device whether a transmission is pending, or whether it can remain in low-power mode and skip the next connection cycle. This feature will have benefits across the board, not just for handsets, but also in industrial and agricultural IoT environments where devices aren't guaranteed regular access to power supply.
Speaking of IoT devices, the latest spec also comes with support for the Enhanced Ultra-Reliable Low-Latency Communications (eURLLC). The key feature here is something called coordinated multi-point (CoMP).
Previously, if a transmission path was blocked, a 5G device would simply re-transmit a packet until the blockage dissipates and it reaches its destination. CoMP outlines other potential paths, which are used as a fallback should one path find itself blocked.
While the 3GPP release 16 standard has been frozen since March last year, Qualcomm said it'll be able to add extra features and support throughout the lifecycle of Snapdragon X65 via downloadable firmware updates.
Qualcomm has already started sampling the Snapdragon X65 modem to customers, with a commercial release targeted later this year – meaning the component will appear in next-gen smartphones – although it didn't specify when. While many will be used in conventional smartphone handsets, the biz said it's targeting a broader range of use cases including home broadband, 5G private networks, and fixed wireless access points. ®