This article is more than 1 year old
This Brit biz's seven-screen laptop is something to behold
You read that right. A laptop with seven screens. Plus eight i9 cores, 64GB of RAM, four disks and three NICs
An outfit in London, UK, called Expanscape has said it has received a surge in interest in its prototype laptop that sports seven screens.
The bonkers gizmo, named the Aurora 7, was shown off around this time last year, as evidenced by the tweets below. The casing looks 3D printed to us, but we could be wrong.
Email enquiries@expanscape.com to order the 2020 laptop that takes no prisoners! #ExpanscapeUk #TeenySERV #7ScreenLaptop #MultiscreenLaptop pic.twitter.com/GjUzxn6kCk

— ExpanscapeUK - Multiscreen Mobile Devices. (@ExpanscapeUK) February 12, 2020
It appears tech journos clocked the thing this month, wrote it up, generated a buzz on social media, and Expanscape found itself apparently deluged with questions. We imagine you have a lot of questions.
The biz says it created the beast depicted above because it thinks there's a market for "a proper mobile Security Operations Center."
Two of the machine's monitors are 17.3-inch, 3840x2160 affairs in portrait mode. Another two have the same spec but are in landscape mode. The remaining three are mere seven-inchers but still pack 1920x1200 resolution. One of the seven-inchers is embedded in the machine's palm rest and is touch-sensitive.
The machine's specs sheet lists a 1.44 inch, 128x128 "system status mini display." Could that be an eighth screen?
Before unfurling, the dimensions are 51cm x 34 cm x 11cm. Once unfolded, it's 96cm x 6cm x 59cm. Images on Expanscape's site show it held together with Velcro when folded.
The machine weighs "around 12 kilograms", packs an eight-core Intel Core i9 9900K with a base speed of 3.6GHz, four NICs, at least 64GB of RAM, two M.2 disk slots and a pair of SATA slots that collectively offer 4.5TB of storage. Wi-Fi, Bluetooth and three gigabit NICs let the machine talk to the world, while three USB 3.1 ports and a Thunderbolt slot let it chat to peripherals. HDMI is offered if you need more screen real estate. A 2MP webcam means the machine can Zoom.
An Nvidia GTX 1060 is aboard, presumably to help out with all those displays.
One battery powers the PC, another handles the screen. Neither will get the machine into a second hour of unwired operations. Yes, the battery capacity lasts less than one hour.
Portable workstations are nothing new: The Register has often rhapsodized over big beasts from the likes of Eurocom, HP and Dell. Multi-screen laptops have also appeared: in 2019 ASUS gave the world the "ZenBook Pro Duo" with a second screen above the keyboard.
But The Register has never beheld anything like the Aurora 7.
It's not hard to guess why this has not been done before as the Aurora appears to be a large, heavy, and an unpleasing jumble. And it is surely possible to create a more elegant mobile command centre or screen-heavy portable workstation rig.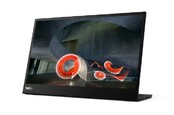 Excited about dual-screen laptops? Make your own with duct tape and the ThinkVision M14
READ MORE
The Register can imagine a pair of fifteen-inch USB-C portable monitors, now available for not much more than US$100 apiece, would slip into a laptop bag without making it indecently bulky. 15-or-17-inch desktop monitors could fit into carry-on baggage, along with a power board and cables. A custom bag could keep them, and a mobile workstation, snug and safe.
Portable workstations from the likes of Dell, HP and Lenovo have another advantage: Xeon CPUs that can handle more RAM and PCIe lanes than the gaming-centric Corei9 Expanscape has chosen to deploy.
Details of on-sale dates and prices are fuzzy – you have to send in an email or fill out a form to request one of these prototypes – and little is known about Expanscape. The address listed on the company's website names a serviced office in central London. There's no shame in that. Indeed, we've occupied some of those ourselves.
A Companies House listing for a company called "Expanscape" with a different address is late with some filings and is at risk of being struck off. Which is concerning but not vastly so as Companies House offers a disclaimer about accuracy of filed information.
i7 Quadcore 4.2GHz+, 64GB RAM, Multi TB NVMe and 2 7inch 1920x1200 screens and it can fit in a larger pocket! #TeenySERV #ExpanscapeUK #DualscreenPortableServer pic.twitter.com/V3ybqfhCDl

— ExpanscapeUK - Multiscreen Mobile Devices. (@ExpanscapeUK) February 12, 2020
The Register cannot be certain the two Expanscapes are the same entity. But we do recall the 2012 prank involving a proprietary Apple screw that wasn't and the long-running saga of the ZX Spectrum Vega+.
This vulture hopes the Aurora 7 is real and sells by the truckload, and that Expanscape's other product ‒ a dual-screen pocket server that looks like a Psion Organiser gone wrong ‒ also delights users for decades to come. ®