This article is more than 1 year old
The next departure leaves in... have you thought about a Microsoft 365 subscription?
Waiting for a bus while welcoming Windows
Bork!Bork!Bork! You can't beat that factory-fresh smell except, it appears, when waiting for both a bus and somebody to finish setting up Windows 10 on a rainy Scottish evening.
Today's display in dismay was spotted by a Register reader on an essential journey to Glasgow's Braehead shopping centre. It is usually to be found showing bus times, but is instead in the throes of Windows Setup. Fresh from the box, so to speak.
It looks like the sound is on, although one can but hope there is no physical speaker fitted to the digital display, otherwise the incessantly perky voice of the Windows Setup might be heard echoing across the carpark and frightening the horses. Or at least alarming the hard-pressed residents of Glasgow, seeking a brief bit of retail respite from reality.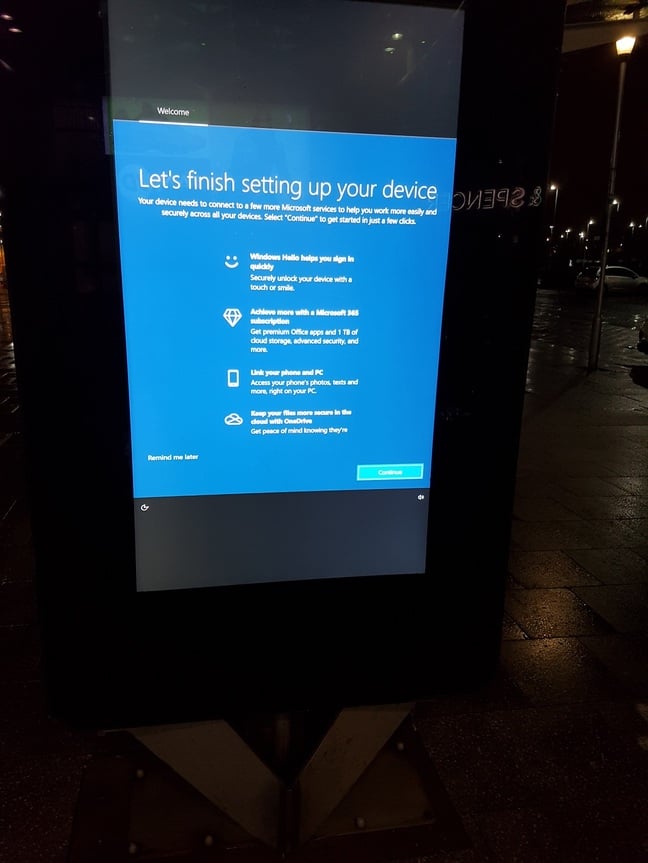 Click to enlarge
"Let's finish setting up your device," pleaded the relentlessly cheerful setup wizard. We're not sure what more a bus stop might achieve with a Microsoft 365 subscription – perhaps Outlook for Omnibus? Maybe, but since such a vehicle would be likely to either explode without warning or take up an inexplicably large amount of space on the road, we don't expect there'd be many takers.
The ability to unlock one's device "with a touch or a smile" was also on offer. The former, of course, is frowned upon in these trying times. The latter? Heaven forbid that the handshake of the Glasgow variety might be an option, and few people smile at their Windows 10 PC during the unlocking process.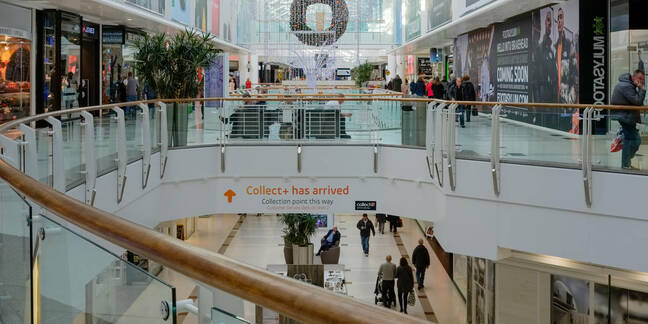 The interior of Braehead shopping centre in Glasgow back in pre-pandemic times
A world-weary sigh maybe. Or a scowl while trying to work out the perfect angle for the Windows Hello camera before resigning oneself to tapping in a PIN.
Sadly, there was no way for our reader to hit continue (and we certainly would not recommend stroking any public screens in this day and age). Instead he was forced to wait, having no idea when the bus might turn up.
We suspect that Windows having a problem is an occurrence more regular than even the most ambitious bus timetable. ®