This article is more than 1 year old
Cisco predicts sunlit uplands after COVID-19. For now, though, sales are flat
Reckons the world is going to re-wire and revisit security
Cisco has reported a small downwards revenue wobble, but reckons there are better days ahead because the post-COVID world will need more networks.
Switchzilla on Tuesday revealed revenue of $11.96bn, up $31m quarter-on-quarter but down $45m year-over-year, for Q2 ended 23 January 2021. Those sums were so small Cisco just rounded things out to a neat $12bn.
Net income was $2.5bn, down 12 per cent on a year ago, and earnings per share were 79 cents – three cents better than expected.
Sales of infrastructure platforms fell three percent, servers kept sliding as the market shrank, and unified communications also struggled. Enterprise sales fell, too. But margins remained strong, WebEx kept growing, industries with less exposure to the pandemic continued to spend, and revenue from software sold as subscriptions and/or cloud services continued to grow to pleasing proportions of all sales.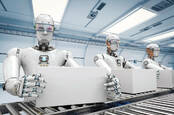 How much is automating customer comms in a time of COVID worth to Cisco? ~$750m, apparently
READ MORE
CEO Chuck Robbins offered plenty of reasons he thinks things will improve in the next few months.
He said that in 2008's great recession enterprise spending came back after other sectors, so he's not worried about that.
Another reason to be cheerful is Cisco's belief that as businesses ask workers to return to offices, they'll be doing more "hybrid" meetings than previously and will need new networks to make them sing.
Cisco's already seen "significant uptake in Wi-Fi 6" as businesses prepare for their staff to return, and that will create a need for more switches.
"We also believe that every meeting in the future is going to be a hybrid meeting, even when people are back in the office."
"You'll have people in the office, and you'll have people remote. And in order to accommodate that, we suspect most of our customers will be putting video units in every conference room they have, which again will also accommodate the hybrid work model but will also drive bandwidth requirements which could lead to switching infrastructure."
On the security front, Robbins said the SolarWinds incident has given businesses a reason to revisit their plans. The CEO likened the current security market to that for remote access and VPNs in the early days of the pandemic, because buyers are currently making purchases to address urgent needs but will soon move to more strategic acquisitions.
Customers will be putting video units in every conference room they have
The networking biz also predicted that nations will come out of the pandemic with a desire to build digital infrastructure that buffers them against future crises. CEO Chuck Robbins said he thinks that will make for overall higher IT spending and stronger custom from the public sector.
Cisco has struggled in the web-scale world as users rolled their own wares or turned to white box vendors. Robbins said that part of Cisco's business grew at triple digits year-over-year, with both complete products and Cisco silicon being snapped up. He described Cisco's efforts in this area as "a marathon", but suggested the company is now well and truly into its stride.
Guidance for Q3 was for revenue growth of between 3.5 percent and 5.5 per cent year-over-year, which sounds nice. However Cisco warned that Q3 2021 will contain one more week than is usual, so the company has assumed two or three percent impact on revenue growth plus approximately $185 million costs. ®